Jury comment
Jac and Jack's gentle mix of luxe and grunge is reflected perfectly in the juxtaposition of its dirty base build and clean, seamless insertion. It's an on-brand expression that couldn't be more appropriate for the Australian fashion retailer's fifth Australian store. The space, in Sydney's Bondi, reminds customers they're a stroll away from the beach and welcomes them with a warm wink.
This was a strongly debated category because of the diversity of projects, but Jac and Jack's immaculate planning sequence stood out to the jury. Positioning of point-of-sale in relation to the fitting rooms and visual connection with the product on display seamlessly remedies the everyday challenges surrounding customer service. There's deliberate calmness to the interior, successfully reinforced through the striking use of a datum.
Subtlety makes this fitout hard to ignore. Its finely considered detailing and selection of uncompromised materials is exquisite and the simplicity of the overall scheme is undeniably beautiful.
Design statement
Jac and Jack Bondi is the fifth Jac and Jack store that George Livissianis has collaborated on. The beachside location is a special one for the brand and its founders, Jac and Lisa, and Livissianis's ongoing relationship with the brand has enabled the design studio to refine and develop its work to align with the brand's effortless luxury. The intent for the design was to create a space that is harmonious with the brand – it had to be calm and effortless. Jac and Jack Bondi is designed so that customers feel at home when they're barefoot in the store after a swim at the beach. The store had to be comfortable, and people connected with the space immediately. These principles shape the material choice, the interior planning and the balance between colour texture, luxury and rawness.
The Retail Design award is supported by Laminex. The Australian Interior Design Awards are presented by the Design Institute of Australia and Artichoke magazine. For more images of this project, see the Australian Interior Design Awards gallery.
Source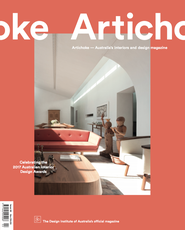 Issue
Artichoke, June 2017
Related topics