Jury comment
Frasers Property Australia Head Office stands out as a playful plan that one jury member described as "crazy looking." Upon closer inspection, the project is very well planned in terms of space utilization, as the architects addressed the interior holistically, making no clear distinction between front and back of house. The organic layout eschews a traditional workstation arrange-ment in favour of a configuration that promotes serendipitous interaction.
A strong wellness and innovation agenda drives the highly innovative scheme, with "third spaces" working to fullest potential. Frasers Property Australia's mantra of relationships as central to business informs this people-focused design and creates a calm yet animated space devoid of gimmicks.
This project also successfully transitions the office into an educational space with a series of flexible zones that challenge traditional typologies. It show-cases a simple, singular aesthetic as opposed to trend-driven curiosities and adds longevity to a workplace in which each member of the jury agreed they would happily work.
Design statement
The design of Frasers Property Australia Head Office was driven by a focus on wellness, innovation, leadership and an imperative to build on internal and partner relationships. The design team's key drivers were to align the physical space with the new relationship-based method of doing business and to reflect the vision of "real places for real people." The workplace aims to provide opportunities for both formal and informal business interaction that happens in an authentic and transparent manner. The environment achieves this by physically connecting business units and project partners through the introduction of a new double-storey "town hall." The cafe, lounge, steps, terrace, mobile trees, large-scale projection and meeting rooms with "garage doors" are fundamental elements of this central space. The design sits comfortably between activity-based and traditional working and offers staff the flexibility to be agile.
The Workplace Design award is sponsored by Laminex. The Australian Interior Design Awards are presented by the Design Institute of Australia and Artichoke magazine. For more images of this project, see the Australian Interior Design Awards gallery.
Source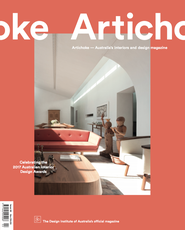 Issue
Artichoke, June 2017
Related topics