Jury comment
The EDG Forum nearly transcends this category into art installation with its precise execution of a single clear idea that's been determinedly realized. By wrapping the space in permeable cotton cord to screen the heritage brickwork, the designers have successfully unified the interior of the iconic former Reader's Digest Building in one slick move. The Brutalist architecture is softened as much as it is celebrated.
The jury applauded this genuinely inventive concept, which transforms the space for maximum impact and results in a scheme displaying undeniable innovation and experimentation. It's a flawlessly executed idea that makes for true delight; playful, novel and a project guaranteed to trigger reaction.
While the EDG Forum demonstrates how to materialize something great with a relatively simple organic material, it also exemplifies a change in workplace design by shifting the focus onto "third spaces." These non-working areas are considered just as important as fixed desk spaces. Every nook and cranny of today's workplace needs to be smartly designed to achieve added value and the jury commends the designers of the EDG Forum for proving that beyond a doubt.
Design statement
This fitout for Endeavour Drinks Group creates a new multipurpose work-space within a heritage-listed building in Surry Hills that was originally designed for Reader's Digest. The project makes explicit the idea of the interior fitout as distinct and separable from the architecture, in recognition of the changing tenants and functions that will happen over time. Previous additions were removed and the heritage brickwork was carefully restored. A lightweight, tensioned cotton cord lining was then introduced to wrap the heritage interior, "monumentalizing" the architecture by emphasizing its volumetric features while lightening the whole space, improving acoustics and screening first-floor office windows. A long fixed table is installed near the perimeter, allowing various social and meeting functions. Custom-made furniture elements can be easily reconfigured or removed to create an open gallery beneath a constellation of lights.
The Workplace Design award is sponsored by Laminex. The Australian Interior Design Awards are presented by the Design Institute of Australia and Artichoke magazine. For more images of this project, see the Australian Interior Design Awards gallery.
Source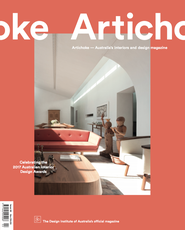 Award
Published online: 9 Jun 2017
Images: Kasia Werstak, Peter Bennetts
Issue
Artichoke, June 2017
Related topics