Jury comment
Indigo Slam stands head and shoulders above the rest of the projects in this category. It's a truly unique project that looks like it could last 100 years, which is exactly what the client, a gallery owner and philanthropist, wanted. The sculptural forms of the design successfully amplify the home's robustness and highlight its amazing quality of light.
There's a determinedly monastic feel to the interior and this is articulated via a sequence of spaces that are grand in both scale and proportion. Yet there are pockets of intimate domesticity, a gentle reminder that as impressive as this project appears, it is a home to be lived in. The fact it also serves a civic purpose by hosting the client's gallery events is evidence of the design's efficiency and flexibility.
Indigo Slam has a sense of timeless-ness and although the design exhibits restraint, the intricacy of detailing and materiality is exceptional. The high level of craftsmanship is obvious – a testament to the project's many collaborations – including a single furniture designer who produced a bespoke collection fitting for an interior of such artisanal boldness.
Design statement
A piece of sculpture to be lived in, this project in Sydney's Chippendale creates an inspiring residence for an art collector. Behind a facade of sculpted concrete, serene living spaces and monumental halls create a dynamic spatial interplay of spare interiors in which the main decorative element is light. The house sits comfortably in a context of mixed scales and uses. On approach from the street, a steel screen opens to lead the visitor into a generous vestibule. The space then compresses to a low and narrow corridor before suddenly opening to a cavernous stair hall lit from concealed roof lights. This unique room is grand and austere in its size and sparseness, but inviting and enticing as it leads one upwards through the building.
The Residential Design award is supported by Smeg. The Australian Interior Design Awards are presented by the Design Institute of Australia and Artichoke magazine. For more images of this project, see the Australian Interior Design Awards gallery.
Source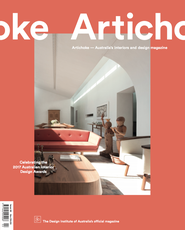 Issue
Artichoke, June 2017
Related topics