The finalists for the 2017 Dulux Colour Awards have been announced. This year, a record-breaking 286 entries have been reviewed for the awards, and judges have narrowed the field down to 89 finalists in nine categories.
Now in its 31st year, the program recognizes the creative and outstanding use of colour across commercial and residential spaces in Australia and New Zealand.
Dulux Colour Planning and Communication Manager, Andrea Lucena-Orr, said, "This year, we witnessed a trend of darker tones in commercial spaces – with blacks, charcoals and purples prominent throughout exteriors and interiors. Cooler combinations of blues and greens were also popular, while architects and designers are continuing to explore geometric shapes and industrial aesthetics.
"Similarly, residential entries embraced moodier palettes and deeper colour tones, which were cleverly offset with elegant light greys, whites and soft pinks. There was a strong modernist influence evident, and minimal colour schemes with metallic shades applied in subtle ways.
"We were also greatly impressed with the calibre of this year's student entries, with imaginative concepts and clever colour combinations displayed."
The panel of judges includes Ryan Russell (director, Russell and George), Maurice Terzini (restaurateur and fashion designer), Fiona Lynch (director, Fiona Lynch Interior Design), Timothy Hill (director at Partners Hill) and Shelley Ferguson (editor-in-chief of Your Home and Garden (NZ)).
The winners of the 2017 Dulux Colour Awards will be announced at a gala event in Melbourne on 10 May.
Commercial Interior – Workplace and Retail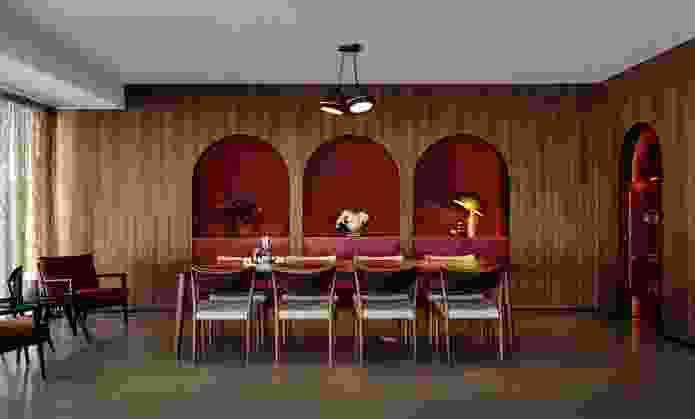 Fourviere Centre, Assumption College – Y2 Architecture
Melbourne Flower Merchant – Studio 103
Pexa – Futurespace
BDO – Unispace
SJB - Oliver Lane Studio – SJB
Readings Kids – Nest Architects
Domain – Siren Design
Hasbro – Siren Design
Bpay – Siren Design
Magellan – Futurespace
Stylecraft Home Showroom – Hassell
Enero – The Bold Collective
Cati Centre – The Bold Collective
One Blue Post – Lynne Bradley Interiors
Charter Hall Perth – CODA Studio
Image: Alex Hopkins

Commercial Interior – Public and Hospitality
Joylati – Studio Y
Pintoh – Studio Y
KA Fire Stair – Deakin University
Monash School of Nursing and Midwifery – Sibling Architecture
Captain Grey – Biasol
Middletown Cafe – Studio Tate
James Richardson Furniture Denfair 2016 – Latitude Group
Wah Wah Gee – Studio Equator
John Hunter Children's Hospital Neonatal Intensive Care Unit Refurbishment – EJE Architecture
Egyptian Mummies: Exploring Ancient Lives – Studioplusthree
The Pool – Aileen Sage Architects
Broadsheet Restaurant – Foolscap Studio
Karratha Super Clinic – CODA Studio
Murdoch University Peel Campus Upgrade – CODA Studio
The Sheraton Mirage – Mim Design
Bikini – Travis Walton Architecture
Image: John Gollings

Commercial Exterior
Readings Kids – Nest Architects
Wodonga West Children's Centre – Now Architecture
Ivanhoe Grammar Senior Years and Science – McBride Charles Ryan
Dawson Street – MGS Architects
RMIT Bundoora West Student Accomodation – Richard Middleton Architects
Wall Art – Indyk Architects
The Metro – Katrina Hill Design Group
Hotel Challis – Katrina Hill Design Group
Parry St Placemaking – Papercourtyard with Donna Burrell
North Bondi Amenities – Sam Crawford Architects
Bungarribee Super Park – JMD Design
Byford Secondary College –Donaldson and Warn
NCC Early Swimmers – Conwell Architects
Ambrose Treacy College Middle School – Fulton Trotter Architects
Lauderdale Primary School Kinder and Classroom Additions – Preston Lane Architects
Antarctic Heritage Trust - Hilary's Hut – Antarctic Heritage Trust
The Old Vicarage – Element 17
Multi Residential Interior
RMIT Bundoora West Student Accomodation – Richard Middleton Architects
Nine Smith St – Neometro
Coppin Street Apartments – Musk Architecture Studio
107 Cambridge – Elenberg Fraser
Oak Grove – Justin Mallia Architecture
Multi Residential Exterior
Art Deco Alive! – Christchurch Apartments
The Pulse – Xsite Architects
The Bakery – See It In Colour
Aston – PBD Architects
Oak Grove – Justin Mallia Architecture
Image: Derek Swalwell

Image: Haydn Cattach

Single Residential Interior
Malvern House – Austin Design Associates
Middle Park – Sisalla Interior Design
Footscray Apartment – BoardGrove Architects
Wheelers Hill – Eco Edge Architecture and Interior Design
Cavale – Camille Javal
Fitzroy Residence – Doherty Design Studio
Belmont House – Kennedy Nolan
Hawthorn House – ADDARC
Northcote House – Taylor Knights
Former Sweet Factory – Folk Architects
Camberwell One – Eco Edge Architecture and Interior Design
Avery Project – German Kitchens
Single Residential Exterior
Duplay – Archsign
Flinders House – Austin Design Associates
Camberwell One – Eco Edge Architecture and Interior Design
Henley House – David Mitchell Architects
Bondi Residence – Lara Ette, Design and Decoration
Burleigh Street House – ME
City Villa – Goode Interiors Ltd
International
Bikini – Travis Walton Architecture
Antarctic Heritage Trust - Hilary's Hut – Antarctic Heritage Trust
The Old Vicarage – Element 17
Avery Project – German Kitchens
City Villa – Goode Interiors Ltd
Art Deco Alive! – Christchurch Apartments
The Pulse – Xsite Architects
Australis Nathan – Peddle Thorp
Student (years one to six)
Carrara Baths – Taylor Chan (University of Auckland)
Arched - a civil union – Jun Chang (RMIT University)
Maker Space – Tahnee Pfeiffer (RMIT University)
Kawaii – Rachel Ang (UNSW)