Jury comment
Campos Barangaroo is one of those rare insertions that manages to complete, and thus make sense of, the space it occupies. It stands in rich, and somewhat glamorous, contrast to the bold sandstone wall nearby, and in harmony with the glass and steel detailing around it, Campos is a glittering "jewellery box" installation, positioned and at home exactly where it should be. Primarily providing coffee, this brass-finished boxed venue, with woven brass mesh panels, puts a bold foot forward in a setting where some might have opted for a more neutral black, or something similar. More than equal to its materially rich setting, this exquisitely detailed cafe also occupies its chosen space asymmetrically, sitting in perfect tension to its framing surrounds. Campos is uplifting, bright, warm, light and welcoming, and a clear winner.
Design statement
Designed as an integral part of the overarching design strategy for the lobby at International Towers Three in Sydney, Campos Barangaroo responds to the civic formality of the base building architecture and the surrounding lobby space. The project creates an experiential retail opportunity positioned within a high-traffic commercial office building, stocking coffee beans, equipment and merchandise. Featuring a lustrous brass frame likened to a sculptural installation, the design imbues a sense of place and permanency through a refined interiors scheme expressed via the modern application of traditional materials. The effervescent brass form was positioned as a jewel within the lobby expanse, its elegant design becoming a meeting place and destination for the building's tenants and their guests. Affectionately coined the "jewellery box" for its lustrous aesthetic, Campos Barangaroo celebrates old-world craftsmanship in a contemporary form. The materiality of the scheme delivers a strong sense of coordination, restrained glamour and quality.
Campos Barangaroo
Lobby, Tower 3, International Tower
300 Barangaroo Avenue
Sydney NSW 2000
camposcoffee.com
Woods Bagot
Level 2, 60 Carrington Street
Sydney NSW 2000
+61 2 9249 2500
woodsbagot.com
See the whole gallery of images at the Eat Drink Design Awards website.
The 2017 Eat Drink Design Awards are organized by Architecture Media and AGM Publishing and supported by principal partner Taubmans; major partners Planned Cover and Shadowfax Wines; and supporting partners Tait, Stellar Works, Map, Schiavello, Laminex and Latitude.
Thanks also to our event partners Sample, Four Pillars Gin and Sanpellegrino.
The Eat Drink Design Awards are endorsed by the Australian Institute of Architects and the Design Institute of Australia.
Source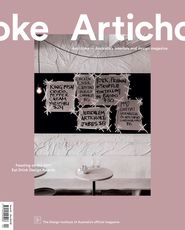 Award
Published online: 14 Nov 2017
Images: Trevor Mein
Issue
Artichoke, December 2017
Related topics