Jury comment
This alteration and addition by Vokes and Peters, to a modest timber cottage in Brisbane's Auchenflower, is as much about what hasn't been done as what has been done to the original home. The architectural language is derived from a celebration of the existing structure and the suburban context in which it sits.
Sensitively responding to the familiar language of the traditional Queenslander house, the new extension features an adaptation of the traditional battened back stair to form the motif for its side elevation. This element also serves as a striking graphic element that responds to the slope of the site and adds a memorable addition to the neighbourhood – especially important given its prominent corner location.
The house has been reorientated to the garden, with large openings at the rear of the house and a new sitting area overlooking the backyard. Internally, social connections are promoted by the design of interconnected living spaces that also allow for casual adult supervision of the children.
Showing restraint and elegance, this home is a n exemplary example of updating a house to suit contemporary family life while embracing and honouring the original dwelling.
See full image galleries of all the winning and shortlisted projects here.
Award for House Alteration & Addition under 200 m2 is supported by Asko.
Credits
Architect
Project Team

Stuart Vokes, Kirsty Hetherington, Marty Said
Consultants

Builder Bauen Constructions
Engineer Westera Partners

Site details

Site type Suburban
Type New house

Project Details

Status Built

Source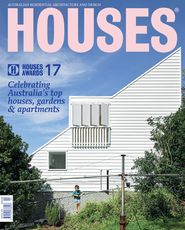 Issue
Houses, August 2017
Related topics