Jury comment
This new pavilion structure provides a main bedroom suite to an existing dwelling, with an atmospheric palette of raw materials designed to reflect the mood of the functions of the space.
The pavilion was designed with minimal artificial lighting to create a "natural atmosphere" in which to relax and unwind. This is a calm and intimate environment with varying layers of privacy and a careful connection to the landscape.
The refined building envelope sits delicately within the landscape, combining charcoal rammed earth and the reflective quality of large panels of glass to connect the structure with its surrounds.
The pavilion is exquisitely detailed and so is the transition between the existing house and the new structure. The internal topography of stepped floor planes further defines the variety of functions and degrees of connectivity with the landscape.
This is a precious gem of a building that has clearly been conceived with a passion for the manipulation of raw materials and their impact on the surrounding environment.
See full image galleries of all the winning and shortlisted projects here.
Award for House Alteration & Addition under 200 m2 is supported by Asko.
Products and materials
Roofing

Lysaght Klip-Lok in Colorbond 'Monument'.
External walls

Silvertop ash shiplap in Cutex 'Black Ash' finish; rammed earth.
Internal walls

Rammed earth; Polytec Maison Oak veneer in 'Ravine'; Edwards Slate and Stone double-honed bluestone tiles; hoop pine plywood ceiling in Cutek 'Black Ash' finish.
Windows and doors

Capral Narrowline frames and artisan folding doors in black.
Flooring

Bentzon Savanna carpet from RC+D; Edwards Slate and Stone double-honed bluestone tiles; silvertop ash timber floorboards in Cutek 'Black Ash' finish.
Lighting

Unios Tourmaline wall lights in black/gold; Gentech Lighting low-profile surface-mounted LED strip lighting; SAL LED track lighting; Telbix Eos external wall lights.
Bathroom

Custom mild steel and concrete vanity by the builder; Rogerseller Solo oval bath; Milli Axon bath outlet and basin mixers in black; Laufen Kartell 420 round basins; custom outdoor shower in exposed copper by the builder.
External elements

Custom off-form concrete seating and custom weathering steel planter and screen by the builder.
Other

Built-in joinery incorporating Polytec Maison Oak veneer, Warwick Fabrics upholstery, formed concrete and mild steel.
Credits
Architect

Branch Studio Architects
Melbourne, Vic, Australia
Project Team

Nicholas Russo, Simon Dinh, Rowena Henry
Consultants

Builder Martin Builders
Engineer WSP Structures
Joinery Nest Joinery

Site Details

Site type Rural

Project Details

Status Built
Completion date 2017

Source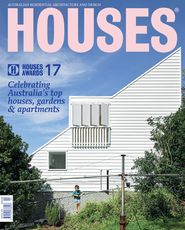 Issue
Houses, August 2017
Related topics