Jury citation
Nestled in the precious Daintree Rainforest, this climate-responsive holiday house for an architect's extended family and friends is barely visible and totally off-grid. Minimizing impact on the site and the forest ecosystem, the footprint has been carefully positioned within available existing clearings. Using a rope laid down on the jungle floor, an access route was marked out during site visits, dodging trees, following natural indications and defining the path that now gently guides visitors through a carefully choreographed rainforest journey into isolation. Arrival is a sigh-inducing revelation.
Like a cluster of tents at a bush camp site, dark forms blend and fold into the shadows of the canopy. A mirror trick of midnight blue paint behind glass reflects lush vegetation, blurring the boundaries where the rainforest ends and the house begins. From a shaded breezeway inserted between the prismatic volumes, a view to an inviting sunny openness beyond reveals this encampment – a place to pause and dwell on a continuing pathway that culminates in a perfect tropical beach.
Offering cool shelter and carefully designed passive ventilation, this restrained work hits exactly the right notes of elemental retreat. Its unassuming spirit focuses entirely on the enjoyment of being in repose within this extraordinary place.
Cape Tribulation House was reviewed by Rowena Hockin in Architecture Australia Sept/Oct 2015.
Source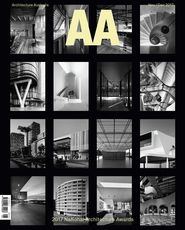 Issue
Architecture Australia, November 2017
Related topics