Jury comment
Sean Connolly at Dubai Opera is sophisticated and sensual, with a maturity that's also lively and playful. The jury commended the interior's meticulous detailing and immaculate planning and simply loved everything about it. Each detail has a high level of intelligence and custom elements are beautifully resolved, from terrazzo benches with leather cushions to elegantly understated, and quite often concealed, lighting. Maintaining an architectural integrity in the fitout's complex geometry has also been masterfully accomplished.
This design skilfully navigates a large, difficult space by creating intimacy in the plan, allowing guests to experience a range of distinct settings. One juror noted that the highly emotive character of the interior conveys a sense of being transported elsewhere, such is the design's compelling experiential qualities. Add to this the nuance and depth of the material and colour palettes and Sean Connolly at Dubai Opera is a worthy award recipient that sets the bar high for future up-market hospitality offerings, both nationally and abroad.
Design statement
The conceptual framework of this project revolved around chef Sean Connolly's oceanic food vision. Conceived as an underwater salon, the bistro explores the colours and tones of the sea, oysters, sea cliffs and coastal escarpments. Coupled with this were architectural reference points to twentieth-century modernism, which was a personal interest of Sean Connolly's. The design team studied geome tries from Eero Saarinen's TWA Flight Center and Jørn Utzon's Sydney Opera House as well as classic Persian tile work and vaulted ceilings within their historic buildings. These, combined with classic interior pieces by Serge Mouille and Norman Cherner and more traditional bistro and brasserie design, including fluted glasswork and brass window frames, results in an underwater brasserie that feels like being lost within an oyster.
The Award for Hospitality Design is supported by Brintons. The Australian Interior Design Awards are presented by the Design Institute of Australia and Artichoke magazine. For more images of this project, see the Australian Interior Design Awards gallery.
Source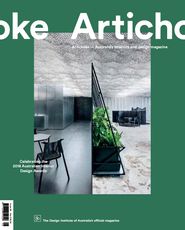 Award
Published online: 25 May 2018
Images: Brooke Holm
Issue
Artichoke, June 2018
Related topics