Jury comment
The jury commended this permanent moveable installation for being an infinitely flexible, incredibly unique project that isn't easy to categorize. Space and Time straddles a number of different typologies and can be configured as a workplace, retail or hospitality offering. Each setting has its own distinct character that is genuinely experiential, with a single ceiling treatment (comprising thousands of LEDs) the interior's one unifying element. The colour of these lights can be adjusted depending on the event or occasion and the overall effect is incredibly dramatic, with each surface serving to reflect this expansive feature.
Space and Time's capacity for creating different environments is what sets the project apart, making its potential for change truly exciting. The jury was impressed by its unlimited configurations and resulting ability to genuinely surprise. Visitors who keep on going back will be greeted with something different every time and this is what makes the project so relevant and intriguing.
Design statement
The experience of space isn't static yet our interiors generally have static functions. What if space responded to mood in a human sense and changed based on what the general feeling was at the time?
Dinner, breakfast, lunch, exercise, work, party, special event, art, experience, workshop, making, creating, going to the movies, gardening, socializing. These activ ities can all occur in this space – all within a framework that adapts specifically to each use. The space is designed to nurture, by stimulating a sense of possibility. This is Space and Time. One space, multiple functions, multiple business, multiple human experiences governed by only one factor – time of day. Use of the space drives the reconfiguration and adaptation of the interior, using dynamic and reusable elements. Spaces are never left idle and unused – simple and mobile elements are endlessly reconfigurable and have multiple functions. An overhead lighting system – a combination of diffuse sunlight and smart LEDs that can adjust to ambient conditions and colour tones – is used along with custom furniture designed and manufactured in house specifically for this project. This project is all encompassing and designed to be a complete interior work.
The Award for Installation Design is supported by Bespoke Careers. The Australian Interior Design Awards are presented by the Design Institute of Australia and Artichoke magazine. For more images of this project, see the Australian Interior Design Awards gallery.
Source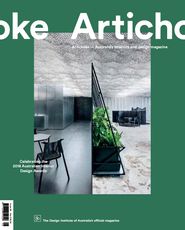 Award
Published online: 25 May 2018
Images: Paul Martin
Issue
Artichoke, June 2018
Related topics