Jury comment
The jury unanimously agreed that Space and Time is deserving of the Premier Award for Australian Interior Design, selected from a field of outstanding contenders. While the project challenges the idea of how we use space, it also shakes up the status quo by asking important questions that need to be asked. What is interior design today? Is temporality key in contemporary interior design? How can designers and architects approach interior design in new and exciting ways?
This project is as unexpected as it is rigorous and its design sets a new precedent for encouraging innovation and not merely copying what's been done before. The jury was impressed that Space and Time feels like a genuine laboratory and as one jury member commented, "There's a sense that stuff can be truly invented here." It tries to push the envelope and succeeds and for this reason the project could hold its own at an international level. The jury also commended its experimental nature and the way light is used to great effect in transforming the space and transporting visitors to another place.
Design statement
The experience of space isn't static yet our interiors generally have static functions. What if space responded to mood in a human sense and changed based on what the general feeling was at the time?
Dinner, breakfast, lunch, exercise, work, party, special event, art, experience, workshop, making, creating, going to the movies, gardening, socializing. These activ ities can all occur in this space – all within a framework that adapts specifically to each use. The space is designed to nurture, by stimulating a sense of possibility. This is Space & Time. One space, multiple functions, multiple business, multiple human experiences governed by only one factor – time of day. Use of the space drives the reconfiguration and adaptation of the interior, using dynamic and reusable elements. Spaces are never left idle and unused – simple and mobile elements are endlessly reconfigurable and have multiple functions. An overhead lighting system – a combination of diffuse sunlight and smart LEDs that can adjust to ambient conditions and colour tones – is used along with custom furniture designed and manufactured in house specifically for this project. This project is all encompassing and designed to be a complete interior work.
The Premier Award for Australian Interior Design is supported by Dulux. The Australian Interior Design Awards are presented by the Design Institute of Australia and Artichoke magazine. For more images of this project, see the Australian Interior Design Awards gallery.
Source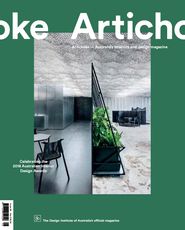 Award
Published online: 25 May 2018
Images: Paul Martin
Issue
Artichoke, June 2018
Related topics