Jury comment
The jury applauded Wynyard Walk for being a genuine public project of infrastructural significance, noting that the 180-metre-long pedestrian link connecting Wynyard Station with Barangaroo uses interior design exceptionally well to elevate the public experience. This project encourages the use of public transport through a celebration of movement and while it's undeniably dynamic, it becomes all the more animated with people in it.
There's detail at every scale and the jury was particularly impressed by the surface treatments, which range from sandstone to aluminium. The robust material palette makes the interior incredibly tactile and this cleverly plays on ideas of connection and engagement. Light is another simple device put to great effect and the use of repetitious fluid curves in a space such as this simply makes good sense. Neither the concept nor the aesthetic feels compromised and the designers are to be commended for delivering an ambitious project that is compliant, user-friendly and timeless. Wynyard Walk demonstrates the way design can change behaviour by shifting perceptions of public transport.
Design statement
Wynyard Walk is a fully accessible pedestrian link designed around the concept of flow. The design challenges the perception of a transport interchange, shifting the emphasis from efficiency of travel to the quality of experience, with the forms optimized to capture the largest volume of space and ease pedestrian movements through its curved profiles, rounded corners and sinuous forms. Providing a highly functional and practical connection, the design is focused on the quality of the customer journey, allowing pedestrians to travel from Sydney's Wynyard Station to the Barangaroo waterfront in approximately six minutes. Linking Wynyard Station to the western corridor of Sydney's CBD, Wynyard Walk consists of a series of above- and below-ground urban interventions, including a nine-metre-wide pedestrian tunnel, a bridge, a plaza and a new civic building. The design concept of flow draws on the natural geology of the Sydney Basin, with its landscape of deep cliffs, gorges, beaches and estuaries carved by erosion. The design references the movement of water through a "fluid flow" of pedestrians – like water, people follow the path of least resistance.
The Award for Public Design is supported by Easycraft. The Australian Interior Design Awards are presented by the Design Institute of Australia and Artichoke magazine. For more images of this project, see the Australian Interior Design Awards gallery.
Source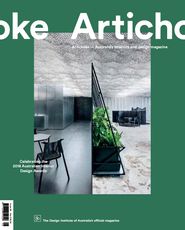 Award
Published online: 25 May 2018
Images: Trevor Mein
Issue
Artichoke, June 2018
Related topics