Jury comment
Curatorial House is confident in its restraint and the jury was impressed by the project's refined detailing, where motif is suggested rather than shouted. Black is used effectively throughout to punctuate the interior and along with white walls provides a neutral backdrop for the family's thoughtfully edited collection of art, objects and furnishings.
The jury commended the project for being a very liveable home that's not static, but rather allows change through a palette that is flexible. One jury member imagined the family travelling and bringing back new objects for the home without upsetting the current arrangement, but rather adding to it. In this respect, Curatorial House is full of narrative and a sense of emotional connectedness; although it is immaculately styled, it's very much a lived-in home that's used. This project demonstrates self-assuredness in the category through a boldness that quietly champions a less-is-more aesthetic.
Design statement
Overcoming the disparity between the original house and its 1980s extension, the design of Curatorial House returns gravitas to the home through carefully considered weights and balance. Key is the relocation of the kitchen to the centre of the ground floor and the creation of a bespoke fireplace in the lounge.
The home's engagement with the garden has also been addressed with a new balcony, defined doors and windows, and a brass rail that is compliant without compromising the original architectural bones. Pared back to a monochromatic palette of black and white, the richness of heritage detailing and the spatial volumes provide foundational bones, while decoration and design bring movement and a sense of dynamism. The design respectfully nods to the glamour of the era and the avant-garde nature of the P&O movement.
The Residential Design award is supported by Smeg. The Australian Interior Design Awards are presented by the Design Institute of Australia and Artichoke magazine. For more images of this project, see the Australian Interior Design Awards gallery.
Source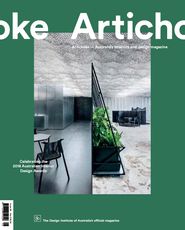 Issue
Artichoke, June 2018
Related topics