Jury comment
Retail design needs to "go somewhere different" to stand out from the crowd and this project does exactly that. The jury was impressed by this genuinely innovative fitout, exquisite level of detailing and single clear concept. L'eclisse presents as an art gallery seductively showcasing the brand's meticulously crafted shoes as objects of art. And customers are invited to discover each item as they move through a non-traditional sequence of spaces. This sense of exploration is heightened by the fitout's fine custom detailing, which encourages closer examination of the shoes' craftsmanship.
L'eclisse's well-considered details lend the design its quirky, eclectic personality and reveal the passion and devotion of the designer. The jury unanimously agreed it's a beautiful interior with a compelling colour palette. It could just as easily be a shop in 1970s Venice, such is its timeless appeal, and, in this respect, the project has a strong international sensibility. Its design very much helps sell the product, making the customer feel they've walked away with something special.
Design statement
The core consideration of the brief was to display shoes and create a space that speaks to the bespoke nature of the artisan quality and detail of the handmade shoes. Existing structures and a tight budget posed limitations but also provided the opportunity to create a series of spaces within the existing envelope. Collaborating closely with client and builder, the design team had a similar aesthetic and love for detail to the client.
The design team focused on the idea of a calming, almost meditative space and a place to escape. The integrity of the design was achieved by the minimal use of materials, each selected to fit its purpose, which also complement the detail in the products on sale. Each element evokes luxury and quality to customers, from the custom shelving of folded blackened steel, fixed to walls with machined brass fittings, to the handmade "shag" rug. These elements, married with the raw finish of the concrete floor and polished plaster walls, celebrate beautiful craftsmanship. The almost twelve- month construction time allowed possibilities and solutions to unfold organically and this contributed not only to the store's aesthetic, but also to the quality of the build.
The Award for Retail Design is supported by Laminex. The Australian Interior Design Awards are presented by the Design Institute of Australia and Artichoke magazine. For more images of this project, see the Australian Interior Design Awards gallery.
Source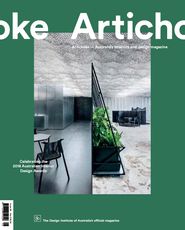 Award
Published online: 25 May 2018
Images: Earl Carter
Issue
Artichoke, June 2018
Related topics