Jury comment
This project's environmentally sustainable design features are impressive and range from a 100-year lifespan to the use of LED strip lighting throughout and the substitution of glass reinforced concrete panels for precast concrete. Wynyard Walk also received high praise from the jury for being socially sustainable, especially within a highly visible urban environment. As a design strategy it makes public transport obvious and attractive and encourages people to use it. And in so doing, it's encouraging ethically considered behaviour that has environmental benefits, beginning with the reduction of each individual user's carbon footprint.
Wynyard Walk's exposure to many means it will have impact and influence that is far reaching. The jury also applauded the wisdom and vision of the client, Transport for NSW, in supporting the advancement of ethical boundaries within the public realm. Certainly, the project would not have been executed with this level of intelligence, resolve and inventiveness had the designers and client not been collaborating with a shared commitment to effect change.
Design statement
Wynyard Walk is a fully accessible pedestrian link designed around the concept of flow. The design challenges the perception of a transport interchange, shifting the emphasis from efficiency of travel to the quality of experience, with the forms optimized to capture the largest volume of space and ease pedestrian movements through its curved profiles, rounded corners and sinuous forms. Providing a highly functional and practical connection, the design is focused on the quality of the customer journey, allowing pedestrians to travel from Sydney's Wynyard Station to the Barangaroo waterfront in approximately six minutes. Linking Wynyard Station to the western corridor of Sydney's CBD, Wynyard Walk consists of a series of above- and below-ground urban interventions, including a nine-metre-wide pedestrian tunnel, a bridge, a plaza and a new civic building. The design concept of flow draws on the natural geology of the Sydney Basin, with its landscape of deep cliffs, gorges, beaches and estuaries carved by erosion. The design references the movement of water through a "fluid flow" of pedestrians – like water, people follow the path of least resistance.
The Award for Sustainability Advancement is supported by Forbo. The Australian Interior Design Awards are presented by the Design Institute of Australia and Artichoke magazine. For more images of this project, see the Australian Interior Design Awards gallery.
Source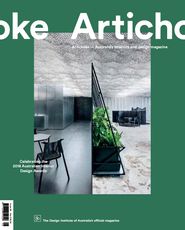 Award
Published online: 25 May 2018
Images: Trevor Mein
Issue
Artichoke, June 2018
Related topics