Jury comment
The Customer Experience Company is an innovative workplace design that delivers exactly what the concept sets out to achieve. Ways of working have been rigorously questioned and the outcome implements a model of flexibility that the jury believes will have long-term impact and influence. The design allows for the 500-square-metre interior to be completely reconfigured via a series of stackable whiteboards suspended from a ceiling-mounted track that zigzags through the space, depending on employees' needs. It has the wow factor in demonstrating pure agility, while being an on-brand representation of the company's progressive office culture and business ethos. The jury was impressed by its compelling plan and innovative thinking in changing perceptions and mindsets about how we work today. CEC's designers have also introduced a new level of spatial informality to the workplace by erasing the distinct threshold between entry and actual work areas. This is a carefully considered, creative design that is anything but ordinary.
Design statement
The Customer Experience Company's (CEC) philosophy applies design thinking to business problems to achieve innovative outcomes and better customer experiences. Given that a principle of CEC's business is "different thinking equates to different outcomes," CEC was prepared to challenge traditional workplace notions, pushing the boundaries when it came to its new workplace. CEC occupies a vibrant studio of 400 square metres in Macquarie Place, Sydney. A key component of CEC's environment was spaces that could be easily modified for various purposes: quiet focused work, ad hoc team collaboration, large-scale events and client workshops. The space was designed to maximize the functionality of the small studio. CEC employees are fully agile, working on folding tables with retractable power, reconfiguring layouts daily based on project needs and specific tasks at hand.
The Award for Workplace Design is sponsored by Laminex. The Australian Interior Design Awards are presented by the Design Institute of Australia and Artichoke magazine. For more images of this project, see the Australian Interior Design Awards gallery.
Source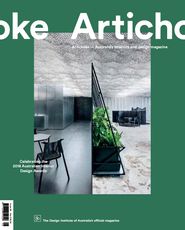 Issue
Artichoke, June 2018
Related topics