The focus on community and liveability was strongly felt in Berlin, as Dulux Study Tour participant Dirk Yates observed, "a sense of community is felt in the small, green pocket parks scattered around the city and the way the architects choose set up their practices. And it seems to keep evolving." The Berliners encountered on the 2018 Dulux Study Tour seemed to be socially aware and politically engaged. However, Berlin is in a state of flux – the population of Berlin increased by an average of 48,700 people per year between 2011 and 2016, the cost of living is higher and vacant land for new development is scarce. Many of the locals are concerned that Berlin, once a vibrant hub of experimentation and opportunity, is becoming homogenized like other global cities.
After the fall of the Berlin Wall in 1989, there was a multitude of gaps and empty lots in the city – and as director of Deadline Architects Matthew Griffin explained, "There were lots of remnant spaces in the city to experiment with back then, but much less so now. Berlin has changed a lot in the last several years." As an example of experimentation, Griffin, who had come to Berlin from Canada in 1992, developed his own "bed and breakfast, but without the breakfast" called Miniloft. It comprises 14 self-contained apartments within a stainless-steel clad building designed by Deadline Architects, and can be rented out for short-term accommodation. Griffin still runs Miniloft, with his own studio on the upper-level of the block.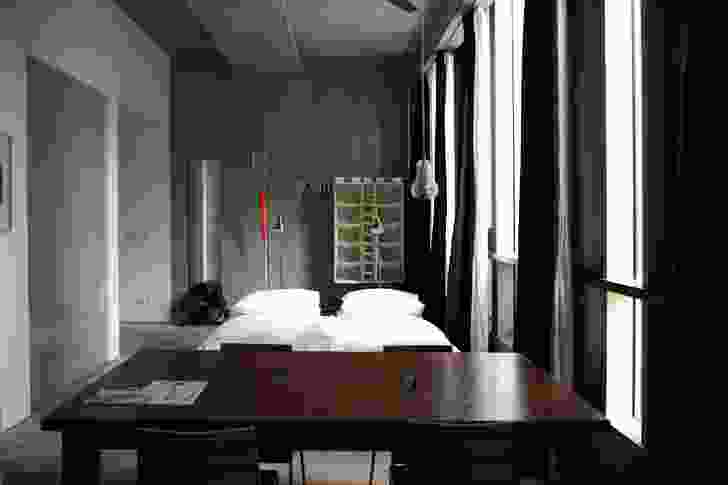 His practice has almost completed a co-operative commercial project called Frizz23, which is made up of 40 stakeholders within the arts and creative industries that includes an expansion of his Miniloft business to include 14 apartments within the new building. Griffin admitted that this project has been difficult, and even harder to complete due to a shortage of construction companies in Berlin. "The market for construction in Berlin is small due to the lack of an industrial base," he said.
A conversation with Christian Roth, co-director of Zanderroth Architeken, revealed that he was also experiencing challenges with the changes happening in Berlin. His Ze05 housing project, completed in 2010, comprises 45 apartments in total, is an impressive example of the Baugruppe model. However, he said it would be much harder to complete a project like this in Berlin today.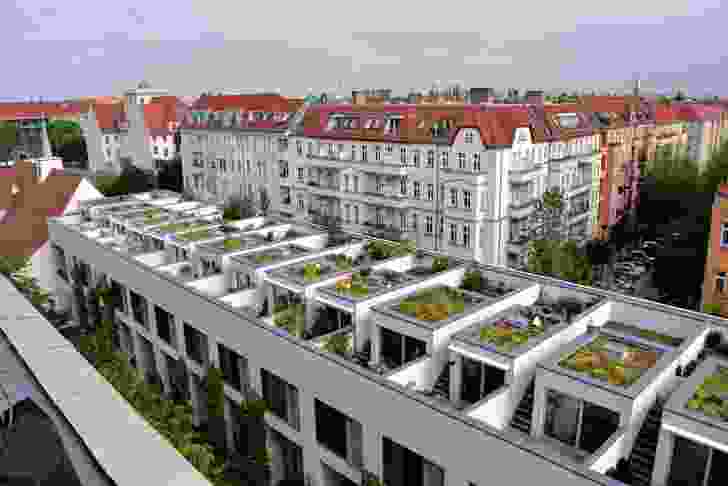 "You need to streamline or standardized the architecture," Roth said as walked us through his own four-storey apartment and into the delightful communal courtyard. As Yates commented, "The thing that was really lovely was, despite the uniformity, it felt so personalized." Dulux Study Tour participant Jason Licht agreed with Yates, "You didn't feel like there was a homogenous blanket over the entire development, it would be really nice as a user."
There was also an element of choice built in to this community-focussed development – the architecture provided a framework for life to unfold, but it didn't dictate how that should happen. As Dulux Study Tour participant Leah Gallagher reflected, "If you're not comfortable being visible from the street in the lower room of the apartment, or in the communal courtyard, you can inhabit an alternative, more private space."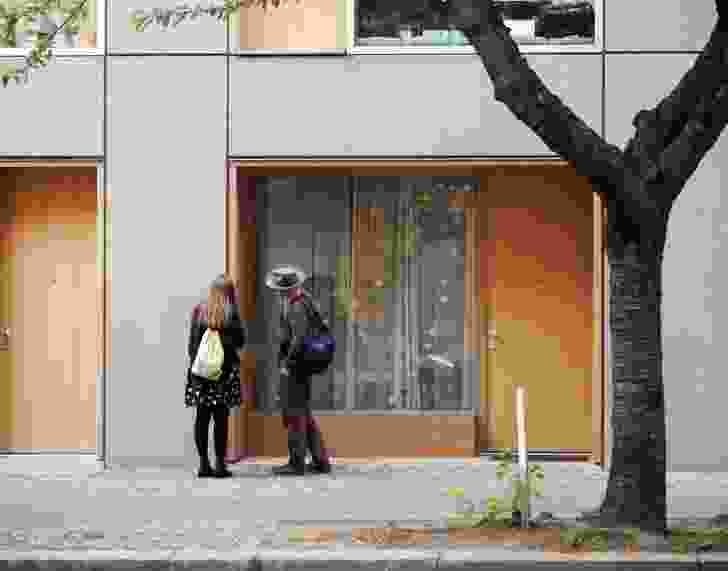 Ze05 is a model of apartment living that is suitable for families, with 65 children living in this particular development, and when asked about if there were set rules within the development, Roth said there was nothing official. "Kids would run around at all times of the day, and people then just began to know what's right, but also what's not right." In addition, the development includes four guest apartments that can be rented by friends and families of residents for approximately 20 euro per night.
Roth was clear to point out that this development was for "families who could actually afford houses. Berlin really needs more social housing." In addition, only one apartment in the entire development was designed for accessibility, which was disappointing to the group. The development suffered from a lack of social diversity and the group wondered if high-end Baugruppen projects were actually adding to the gentrification in the city.
In a visit to Realities United, a practice that is at the intersection of art, architecture and technology, a different type of socially conscious design was explored. Director Tim Elder shared his visions for the Flussbad Berlin, a river pool project that seeks to transform the banks of the Spree River and Spree Canal into a new meeting place through cleaning the water of the river. This project is supported by the German Federal Government and State of Berlin, and has already been in process for 10 years, with another 20 or so ahead, but it has already allowed swimmers to return to the Spree. As Dulux Study Tour participant Kim Bridgland reflects, "The timeline of the project speaks of the remarkable tenacity of this community who are determined to stay together and to fight for their rights to the place, no matter the setbacks."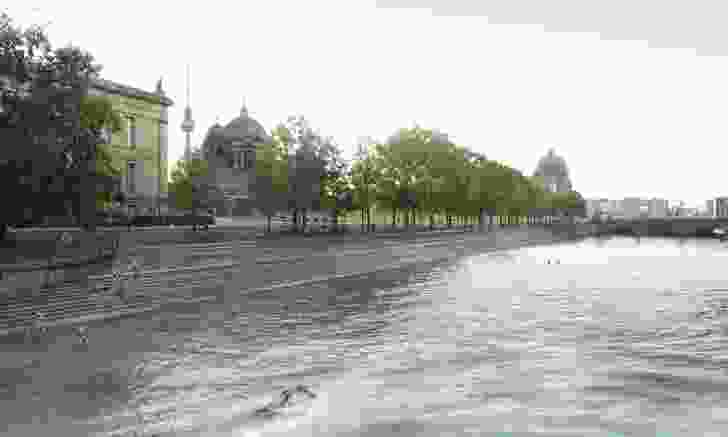 In the group's wanderings around Berlin, we encountered a higher number of small pocket parks and green spaces than is common in other major cities. In particular, our guided tour of Berlin finished at Prinzessinnengarten (Princess Gardens), an urban garden in which organic vegetables are grown and you can stop for a beer or something to eat. A not-for-profit organization Nomadisch Grün (Nordic Green) created the gardens in 2009 on a site that was once a wasteland, after clearing away rubbish and building transportable vegetable plots with friends, activists and neighbours.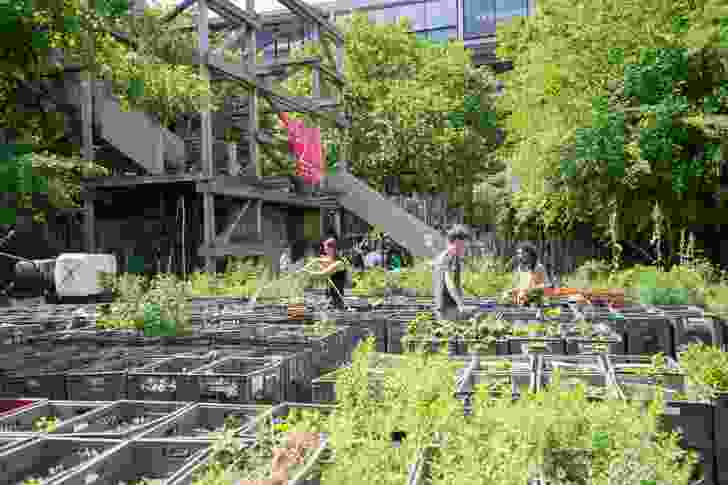 This idea of a social space within the city is mirrored in the design of David Chipperfield Architects' Berlin studios, where the complex includes a planted courtyard with a café and restaurant that was originally intended as a social hub for the employees of the practice, but is now also open to the public. Andrew Davis, an Australian working at Chipperfield's office, quipped, "It's hard to leave the office without someone stopping you to have a beer in the courtyard."
Bridgland reflected, "Architecture is a tool that can, and should be, used for social change," which is a strong message the group took away from the Berlin leg of the 2018 Dulux Study Tour.
Katelin Butler is travelling with the 2018 Dulux Study Tour. Follow #2018DuluxStudyTour on social media and the blog.
Related topics