The role that studio culture plays in architectural practice is something that has come under scrutiny in recent years – in particular, Parlour's research into and discussion of gender equality, work-life balance, and fair payment for employees is something that has reminded us all of the importance of fostering a supportive working environment. But how does studio culture affect the architecture that the practice produces?
On the London leg of the 2018 Dulux Study Tour, this was the question that prompted discussion and reflection among the five Dulux Study Tour participants – Dirk Yates, Jason Licht, Leah Gallagher, Kim Bridgland and Joseph O'Meara. These emerging architects are at a point in their careers where it's vital to stop and reflect on the trajectory of their own practice, or the practice they work for. Through experiences of the studio environments and meeting the architects that create the buildings, the values of each practice were revealed. As O'Meara noted, "You can draw a multitude of parallels between the way each practice operates and the work that is produced. And the way each practice operated revealed different values." Common threads between practices were discovered and the 2018 Dulux Study Tour group began to broadly assign each into one of four general categories of values, styles and organizational philosophies that inform the practices and the resulting projects – technology, research and development; data-driven architecture; people-led, community-focussed design; and crafted and contextual response.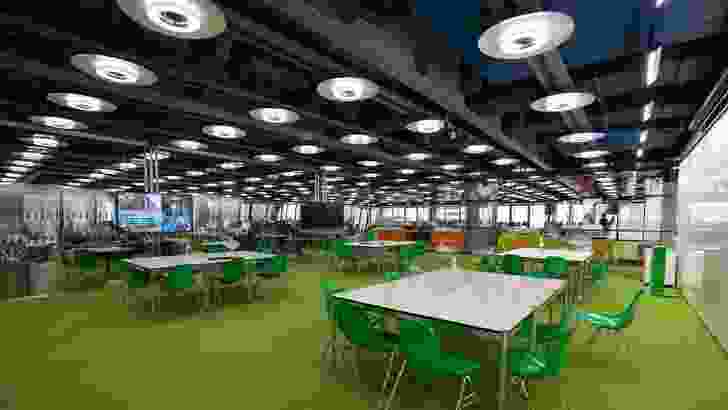 Technology, of course, plays a vital role in an international city such as London. The high-tech thinking of architectural masterminds Norman Foster and Richard Rogers has been passed through architectural generations in London and the research and development component to design is integral to many of the visited practices. Reflecting this rigorous approach to research, the studios that were placed in this category were littered with physical models, materials and prototypes – including a 1:1 model suspended within the open-plan space at Foster and Partners. This scientific and calculated approach was mirrored in the physical atmosphere of the office. For example, the bright green-carpeted office of Rogers Stirk Harbour and Partners in the 225-metre-tall Leadenhall Building (designed by the practice) gave the impression the company was a well-oiled and precise machine. It's interesting to note that most of the Leadenhall building (also known as the Cheesegrater) is mainly tenanted by insurance companies, with Rogers Stirk Harbour and Partners the only creative company. As Yates noted, "The area that the practices were located reflected quite strongly on the practice themselves."
The technical and machine-like feeling was similar at Foster and Partners, but rather than a single floor of workers, there is a small village of workers, with over 1,200 employees. Partner Thouria Istephan described how the practice is divided into six main groups comprising multiple disciplines to allow for most projects to be managed independently by Foster and Partners. In this case, the role of the architect is all encompassing – even to the extent that this practice employs a composer for the backing tracks of fly-through renders.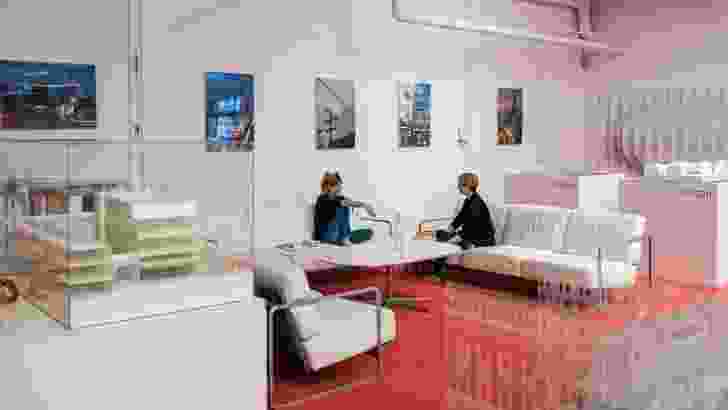 AL_A (formerly Amanda Levete Architects) revealed a similar interest in technology and the testing of ideas and materials through model making and prototyping. Balanced with this technological emphasis was the strong desire for narrative in the architecture produced. Associate Alex Bulygin described the "golden triangle" of architecture as "narrative, technology and materials." Located within an expansive industrial warehouse, the blush-red carpet and diffused natural light from skylights above give warmth and calmness to the space. As Licht noted that this, along with the no-shoe policy "resulted in a relaxed, almost meditative space."
In a slightly alternative, but associated approach to technologically advanced architecture, is data-driven design. This was revealed to the 2018 Dulux Study Tour group at a presentation at Zaha Hadid Architects offices. Associate Stefano Paiocchi shared a development project that aimed to create mass-customized urban housing for huge numbers of residents. This scheme was developed based on data input, and was intended to give choice to inhabitants about the design of the house that they lived in, and who they lived next to. The Dulux Study Tour group succumbed to the fact that data-driven design is our future, whether you like it or not – but it was concerning to see the lack of connection to the end user in the design outcomes. As Gallagher reflected, "there is a strong and largely successful lineage of high-tech thinking in London, but sometimes I wonder if people come after the spread sheet." The group discussed the age-old problem of who and what is driving these projects – "commodity" versus "home", for example – and in the case of this project, the client was a real estate company.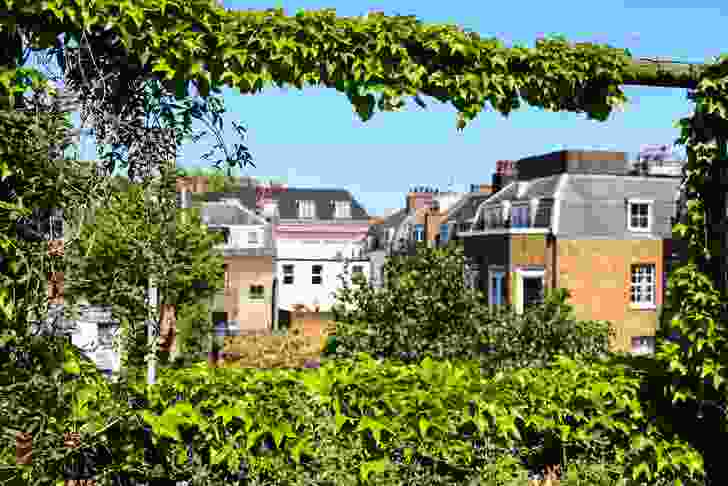 The small clusters of pot plants and vine-covered buildings along the cobbled street of an old London mews hinted at what type of practice Ash Sakula Architects was. Warmly greeted by co-directors Cany Ash and Robert Sakula, the 2018 Dulux Study Tour group was taken by the eclectic and energetic environment of the former stable. On its website, the practice describes the studio as a "box of tricks, [a] place to conjure up architecture, a place to be pioneering, agile and energetic." Sakula presented a series of housing and community projects, and the focus was abundantly clear – people come first. The studio sits below the four-storey family home of Ash and Sakula, which Bridgland described as being "so full of life and curiosity." In this house, it wasn't about the making of highly refined architecture, it was about making a joyful space to experience.
With a long and layered history in London, you might expect design responses to encompass serious consideration of the city and context. In the group of practices visited, technology and research seemed to be the focus. However, for Carmody Groake, Henning Stummel and Studio Octopi there was a real consideration for context and history. These three practices demonstrated a crafted response, sensitive to what it means to design buildings, both new and adaptive reuse, in England. Taking us through his projects using physical models located on the lower-level gallery of his industrial studio, Kevin Carmody discussed the layers of London's history and how this could be used to inform design. The architecture by this practice is refined and crafted, much like the presentation skills of Kevin Carmody himself, showing depth of design thinking and attention to detail.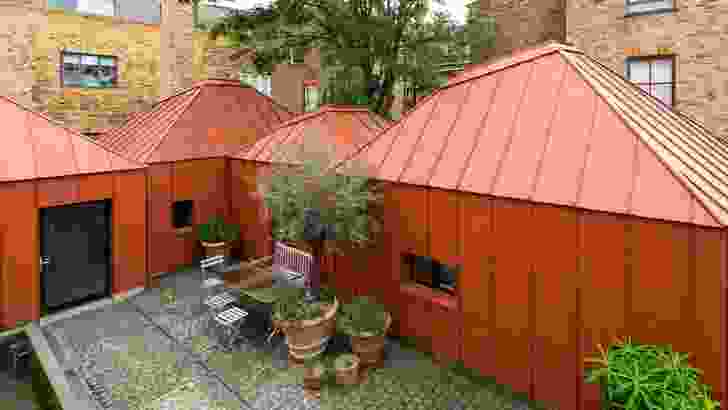 Henning Stummel's Tin House, RIBA London Award winner in 2016, is a collection of six earthy-red coloured, metal-clad pyramidal top-lit forms around a central courtyard space. This cluster of buildings is sculptural, but also create a dialogue with the dense context of Victorian buildings. This is the architect's own home and his practice is run out of a studio within the gateway building that leads into to the space of the private home.
Of course these categorizations of practice aren't without overlaps and anomalies and the 2018 Dulux Study Tour group agreed that there was merit to be found in all approaches. The variation in studio cultures leads to a multiplicity of architectures creating a city that is, as Gallagher says, "a library of styles or trends, with different modes of practice leading to a diversity in the city that adds to its richness." In a rapidly developing city like London, however, the 2018 Dulux Study Tour group wondered if technology and research is taking over the "old-fashioned" notions of place making and regional response. Yates posed the question as to what would happen "if one of the practices we visited was given the task of designing a whole city, would they make the same thing all over the city?" Would it be a homogenous outcome, no matter which practice?
Katelin Butler is travelling with the 2018 Dulux Study Tour. Follow #2018DuluxStudyTour on social media and the blog.
Related topics