Jury comment
The Chandon tasting room and boutique is a successful showcase of the brand, elevating it to international standards with impressive design. The jury remarked on the sense of presence: the airy space has generous and comfortable dimensions, with excellent flow from zone to zone, while a connection to landscape allows a sense of rawness to hover at the perimeter. The design aesthetic is feminine, which perfectly personifies the brand, while a bubble motif threaded through it complements the product. Clearly, the budget was generous, speaking to the premium aspirations of the brand, but we saw nothing gaudy or showy; there's restraint and the luxury of ease rather than lavish display. As a retail space, it works well: there's no doubt visitors will purchase here, and in that sense it's design that is supremely fit for purpose.
Design statement
In this complete overhaul of Chandon Australia's cellar door, the project required a considered and spatially intuitive response to the existing, voluminous 1980s structure. This was achieved through the implementation of dynamic and brand-immersive experiences. The design team took cues from the client's universally applied méthode traditionnelle process; anchoring the new fitout through their brand values of French-born tradition and contemporary context with production and new-world outpost in Victoria's Yarra Valley. Drawing upon the site's stunning landscape as it shifts through the seasons, Foolscap Studio applied a fearless approach to colour and native materiality, using dusky pink and green velvet, natural bronze-toned hues, aged leather and printed textiles by Indigenous artists. Spotted gum timber and locally-quarried Dreamtime marble anchors Chandon to its Australian setting, culminating in the delivery of a fresh and relevant environment for existing loyalists and locals, as well as reaching out to an emerging market of food and wine lovers.
Chandon Australia
727 Maroondah Highway
Coldstream Vic 3770
+61 3 9738 9200
chandon.com.au
Foolscap Studio
Project team: Adele Winteridge, Kathrin Wheib, Madeline Freeman
Level 1, 84 Rupert Street
Collingwood Vic 3066
+61 3 9012 6637
foolscapstudio.com.au
See the whole gallery of images at the Eat Drink Design Awards website.
The 2018 Eat Drink Design Awards are organized by Architecture Media and supported by major partner Shadowfax Wines; supporting partners Euro Cave, Laminex, Latitude, Ownworld, Planned Cover, Roca, Schiavello, Tait; and event partners Four Pillars, Sample and San Pellegrino.

The Eat Drink Design Awards are endorsed by the Australian Institute of Architects and the Design Institute of Australia.
Source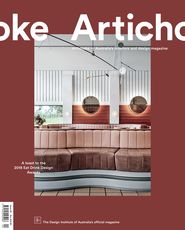 Issue
Artichoke, December 2018
Related topics