Jury comment
There is so much in this project to like. The jury appreciates the way the design is a response to the space, first and foremost, embracing the heritage of the building with sensitivity and giving it new life, without being beholden to trends. Detaching the new entity from the shell creates tension and interest, while the tones, textures and layers are embracing and soothing. The raw materiality of the brickwork harmonizes with the rich leather tones, bringing a sense of richness and comfort, along with little surges of curiosity. Linking indoors with outside adds to the considered, holistic feel and helps anchor the cafe. There's a lovely balance of the gridded and structured, the soft and giving, the comforting and surprising. In all, it feels like a place you'd want to be.
Design statement
Bentwood pays homage to the old custodians of the space and the site's historic archetype as a furniture workshop and later as the Thonet furniture showroom. The cafe is furnished in Thonet's iconic pieces and beautifully detailed joinery. The robust materiality of the eatery was informed by the site's existing facade and the surrounding environment. As a result, the interior reflects Fitzroy's brutalist industrial heritage through the use of primed steel wall cladding and ceiling panels. The space sits encased within the original heritage facade, made of red pressed brickwork and old stucco. An adjacent laneway lined with brick pavers runs underfoot, while concrete columns rise up to a ceiling grid primed in red oxide. The ceiling grid compart-mentalizes the space, creating pockets of light and shade, volume and intimacy.
Bentwood Cafe
237 Napier Street
Fitzroy Vic 3065
+61 3 9419 1614
bentwoodfitzroy.com.au
Ritz and Ghougassian
Project team: Jean-Paul Ghougassian, Gilad Ritz
5/589 Malvern Road
Toorak Vic 3142
+61 3 9824 0051
ritzghougassian.com
See the whole gallery of images at the Eat Drink Design Awards website.
The 2018 Eat Drink Design Awards are organized by Architecture Media and supported by major partner Shadowfax Wines; supporting partners Euro Cave, Laminex, Latitude, Ownworld, Planned Cover, Roca, Schiavello, Tait; and event partners Four Pillars, Sample and San Pellegrino.

The Eat Drink Design Awards are endorsed by the Australian Institute of Architects and the Design Institute of Australia.
Source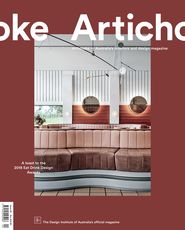 Issue
Artichoke, December 2018
Related topics