Jury comment
A standout entry, this Japanese kaiseki restaurant beautifully ties together design and the dining experience. The harmony and intertwining of nature, artistry, balance and flow are key to the kaiseki style of dining; they are also evident at Ishizuka, a basement restaurant that is somehow conservative and radical at once. Even before entering the dining room, Ishizuka's sense of place and occasion come to the fore with a large backlit lantern egg greeting diners, sweeping them in and signalling the narrative about to unfold. The interior is epic but muted, dignified, almost filmic, suffusing the restaurant with texture, tone and a sense of mystery. The balance of nature and human agency is expressed through the interplay of flora and the built environment. The jury senses that diners will feel part of the hum and play of Ishizuka while there – enveloped, transported and honoured.
Design statement
After finding a site and having further discussions with the client about Melbourne and its food scene, the design team advised that the interior needed to be unusual and contemporary to work with the kaiseki dining experience within the Australian market. This drove a design response that would delight and be youthful yet formal. The large lantern egg, backlit with flora that cast shadows on its surface, is what greets diners arriving in the space; its unusual scale is compressed within the concrete basement, providing a shelter for the diners. Reminiscent of a petrified forest, the treatment of the existing concrete piling of the basement is left exposed and uplit and draws on kaiseki tradition. A less obvious element is the subtle raise in the flooring; though barely noticeable to the diner it provides an important function that is unusual in kaiseki, allowing the diner to sit on a chair rather than a bar stool. This creates greater comfort and a more relaxed dining experience.
Ishizuka
B01/139 Bourke Street
Melbourne Vic 3000
+61 3 8594 0895
ishizuka.com.au
Russell & George
Project team: Ryan Russell, Byron George, Brady Hallam
18–24 Baillie Street
North Melbourne Vic 3051
+61 3 90383240
russellandgeorge.com
See the whole gallery of images at the Eat Drink Design Awards website.
The 2018 Eat Drink Design Awards are organized by Architecture Media and supported by major partner Shadowfax Wines; supporting partners Euro Cave, Laminex, Latitude, Ownworld, Planned Cover, Roca, Schiavello, Tait; and event partners Four Pillars, Sample and San Pellegrino.

The Eat Drink Design Awards are endorsed by the Australian Institute of Architects and the Design Institute of Australia.
Source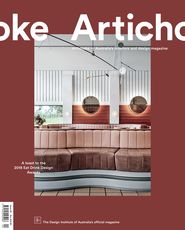 Issue
Artichoke, December 2018
Related topics