Reflection by Dani Valent, on behalf of the jury
I remember when Cookie opened in 2003. It was instantly exciting: a bar and Thai restaurant on a seedy segment of Swanston Street, hidden on the first floor of a six-storey Commercial Palazzo-style building dating to 1922. It felt important, somewhere visitors to the city were dragged immediately for spicy duck salad and cold beer, and it was a key part of a transformation of Melbourne – the nine-to-five city of suits turning into a twenty-four-hour adventure.
Cookie conjured a Melbourne that was worldly but unencumbered, fun but not silly, knowing yet open. It honoured conversations both garrulous and intense. It delivered big, bold flavours and sounds. It understood the art of drinking one's way to key ideas, including what it meant to live in Melbourne, here, now and into the future.
I didn't think consciously about the design then, I just knew how it felt. But when it came time to choose this year's inductee for the Eat Drink Design Awards' Hall of Fame, I was thrilled to be part of a jury that gave Cookie the gong.
Architect Phillip Schemnitz worked closely with owner Camillo Ippoliti. "Cookie was designed to match a grand vision. Getting the project right was an intensely collaborative process, following a proven methodology that works when the architect's sensibility is allowed to drive design decisions," he says. "An architect is a bit like a tailor. You must fit the body of the client, fit their needs. You also go beyond, extend their vision and hopefully that collaboration produces something special." Chef Karen Batson was integral too and, unusually in the hospitality game, which seems to privilege change, owner and chef remain.
I meet Phillip Schemnitz at Cookie; it's late afternoon and lunch stragglers are caught in sunlight, the honed Carrara marble bar a long bright spear against a dark timber background. "Camillo and I were presented with a blank but very dilapidated canvas, a large space in the tradition of the Italian piano nobile, with high ceilings, ornamental cornices and timber wainscoting , " says Schemnitz. The design responded to the space, restoring, extending and in some cases recycling. Water-damaged parquetry became the cladding for the bar, laid in a brick pattern to connect visually to buildings in the rear laneway. Melbourne was always on their minds. "We thought about how people live in the city, what they want, " he says. "I tried to design something robust and enduring."
Over forty or fifty hand-drawn sheets, Schemnitz wove together ideas and inspiration: Bavarian beer halls, convivial Irish pubs, Le Corbusier's notion of the "architectural promenade," New York lofts and the concept of a "third place," into which people can escape between home and work. "I enjoy doing all my own hand drawings to retain full control of the final product, from the overall down to the smallest detail. The fluidity of this approach is gratifying, highly bespoke and clearly resonates with the discerning patron. " The result is a tactile, versatile, multi-zoned and multi-purpose venue that works day and night, for solo diner or raucous gaggle. It is hidden from the city but anchored in it, and there are views of the outside world both obvious (big windows) and surprising (rents in the parquetry wall). "I'm not as interested in the purity of design as much as embracing eclecticism, which is akin to improvisation in music," says Schemnitz.
If that makes Cookie sound haphazard, it is not. Indeed, everything is intentional, and its architect even now recalls measurements to the millimetre. The steel foot-rail at the bar converses with the light fittings which, in turn, riff on the sprinklers suspended above the rear laneway. Screens demarcate the space, at different heights, some see-through and some opaque. "Views are blocked, then revealed, " says Schemnitz. "That's all thought about. " Textures at the communal table are soft to comfort solo diners. The floor is sprung. "You would never notice it but you can stand here for hours and not get tired," he says. The floorboards are narrow and secret-nailed. "It's more elegant, like a ship's deck," he says. Is it important? "I think people register all sorts of things subliminally. We took every opportunity we could to make it interesting, comfortable and a journey for the customer."
He's delighted that Cookie has been recognized with an award and even more so that it's still thriving as a business. "Camillo's careful and passionate stewardship and his understanding of hospitality have meant that the space is still as exhilarating for newcomers as it was when it was built, " he says. "Cookie is a club for everyone. The only membership required is the knowledge that it is here, waiting to be enjoyed. It's important for us to have these places. They make Melbourne so special."
Cookie
252 Swanston Street
Melbourne Vic 3000
+61 3 9663 7660
cookie.net.au
Phillip Schemnitz Architect
30 Alma Road
St Kilda Vic 3182
+61 3 9593 9203
phillip.schemnitz@gmail.com
See the whole gallery of images at the Eat Drink Design Awards website.
The 2018 Eat Drink Design Awards are organized by Architecture Media and supported by major partner Shadowfax Wines; supporting partners Euro Cave, Laminex, Latitude, Ownworld, Planned Cover, Roca, Schiavello, Tait; and event partners Four Pillars, Sample and San Pellegrino.

The Eat Drink Design Awards are endorsed by the Australian Institute of Architects and the Design Institute of Australia.
Source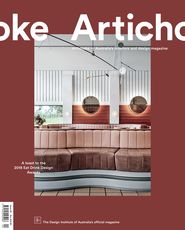 Issue
Artichoke, December 2018
Related topics