Jury citation
A laneway restaurant in the centre of Adelaide, Shobosho's visual identity reflects and amplifies the nature of the business itself: a fire-focused kitchen turning out modern Japanese cuisine. There's an innovative use of painted neon signage with the lighting appearing burning hot, almost shimmering, bringing the identity to life in physical form. This not only matches the charcoal-driven food offering but is also picked up by other visual identity and interior design elements of the business. The jury appreciates the way the physical qualities of the signage and its vertical position tie the venue to its street setting, creating impact and vibrancy .
Design statement
The brief for this project was to create a modern Japanese-inspired brand, referencing the space and food and beverage offerings of Shobosho. The brand was to be minimal and sophisticated in nature. Due to the size of Shobosho, opportu nities were limited as to brand application. The designers wanted to create a brand that has immediate impact at street level and that references the burnt Japanese wood in the interior, the fire displays viewed in the kitchen and the restaurant's sophisticated offering. The designers wanted the brand to feel like it was burning hot, like charcoal and red embers. They had never seen neons painted red to give a burnt, hot branded feel, so they used this technique in the identity. Painting the face of a red neon tube gave a red glow, appearing to be extremely hot. This "burnt" feel was then applied to other materials throughout the restaurant.
Shobosho
17 Leigh Street
Adelaide SA 5000
+61 8 8366 2224
shobosho.com.au
Crafty Design
Project team: Dave Lawson
Level 1, 192 Waymouth Street
Adelaide SA 5000
+61 413 226 899
crafty-design.com.au
See the whole gallery of images at the Eat Drink Design Awards website.
The 2018 Eat Drink Design Awards are organized by Architecture Media and supported by major partner Shadowfax Wines; supporting partners Euro Cave, Laminex, Latitude, Ownworld, Planned Cover, Roca, Schiavello, Tait; and event partners Four Pillars, Sample and San Pellegrino.

The Eat Drink Design Awards are endorsed by the Australian Institute of Architects and the Design Institute of Australia.
Source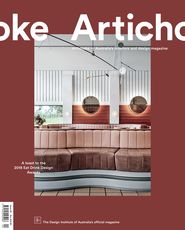 Issue
Artichoke, December 2018
Related topics