Jury comment
A familiar Queensland worker's cottage has been transformed into a luscious, planted oasis. John Ellway has deftly exploited the site's natural fall by inserting living spaces underneath the raised original cottage. This move has deconstructed the classic verandah arrangement to create a wonderful, breezy and vine-covered entry and external vertical circulation.
The design of the Terrarium House is attuned to its subtropical climate, promoting cross-ventilation with a sunken living space protected from the harsh Queensland sun. The compactness of the house is its triumph; circulation flows seamlessly from one space to another and not one inch is wasted, with notable Japanese influences. A double-height space above the dining area gives the impression of space, without deterring from the intimacy and warmth of the home.
This alteration and addition has been put together with care and finesse in a careful contextual response. There is restraint in its execution, and the design enhances the delight taken in everyday rituals.
See full image galleries of all the winning and shortlisted projects here.
The award for House Alteration and Addition under 200m2 is supported by Asko.
Credits
Architect
Consultants

Builder Matt Saggers
Engineer Josh Neale
Photographer Toby Scott

Site Details
Project Details

Status Built
Category Residential
Type Alts and adds

Source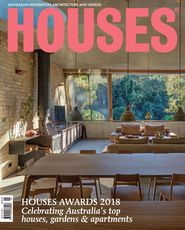 Award
Published online: 27 Jul 2018
Images: Toby Scott
Issue
Houses, August 2018