Jury Comment
With a growing appetite for micro-domestic space in the residential market, this tiny renovated apartment is a timely reminder that the division and articulation of territory in the home are essential, no matter the scale. In this instance, the clear delineation between the functions of rooms and the public and private character of rooms is supported by the miniaturization of known spatial devices and practices.
While making its moves look simple, this subtle and sophisticated rethinking of an existing twenty-four- square-metre apartment is an essay in comfort, luxury and unexpected spatial depth.
Here, a singular and familiar architectural element, a sliding slatted timber screen, defines the function of the apartment at any given time. The position of this screen – there are only two – determines either a private room for sleeping or lounging, or a public room for cooking and socializing.
All the programmed spaces – bathroom, kitchen, robe, sleeping alcove – are clearly arranged into a single integrated core, yielding a living room comparable in scale to that found in a regular one-bedroom apartment.
This solution for thinking and living small is elegant, surprising and ambitious.
See full image galleries of all the winning and shortlisted projects here.
The award for Apartment or Unit is supported by Maximum.
Credits
Architect

Brad Swartz Architect
Sydney, NSW, Australia
Project Team

Brad Swartz,
Consultants

Engineer ACOR
Photographer Tom Ferguson

Site details

Category Residential buildings
Type Apartments

Project Details

Status Built

Source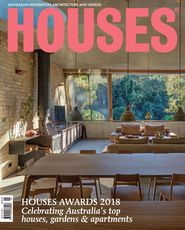 Issue
Houses, August 2018