Jury comment
Sydney-based Brad Swartz Architects won the Apartment or Unit category of the 2015 Houses Awards with the twenty-seven-square-metre Darlinghurst Apartment, in the same year that the practice was established. Since then, this emerging practice has continued to refine the art of the Tetris puzzle that is small-space design, and this year is again the winner of the Apartment or Unit category. By making the most of clever joinery, demonstrating spatial innovation and using cost-effective design strategies, Brad Swartz Architects reminds us that good design can be made available to all.
The practice's body of work to date is concerned with making better use of existing spaces and the need to achieve rich amenity within the increasingly confined footprints of our capital cities. The Loft x2 is an example of infill housing that transforms two parking spaces into a pair of one-bedroom houses. Boneca Apartment and Darlinghurst Apartment are examples of the reuse of existing building stock that no longer suited contemporary lifestyles. Each project is refined, with a real sense of delight at what is possible. The jury is excited to see what's next for this inspirational young practice.
See full image galleries of all the winning and shortlisted projects here.
Award for Emerging Architecture Practice is supported by Blum.
Source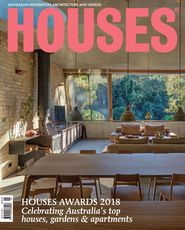 Issue
Houses, August 2018