Jury comment
A garden is one of the most compelling symbols of home. The design brief for this project was a large house; however, the architects responded with a strategy for a large garden. Here, a new flamboyant family home is set in an exotic coastal garden that preserves and intensifies a former domestic garden on the site, grounding and immersing the family and their domestic rituals in a terraced, episodic sandstone rock terrain.
The house is designed to be engulfed by its garden, but it is also seen as an extension of it – archaic, cave-like, a reoccupied ruin – with aspects of nature finding their way inside through random stone floors, planted roofscapes and creepers negotiating its exterior walls.
There is also an allusion to the larger landscape gesture of its place; the epic spatial quality of nearby Bronte Beach, with its natural amphitheatre of sandstone and verdant gullies, is found miniaturized in the form of the house and its cantilevered, weathering concrete surfaces, and a slow, meandering descent to the swimming pool. It is an ambitious idea for a garden, at the scale of the home.
See full image galleries of all the winning and shortlisted projects here.
The award for Garden or Landscape is supported by Tractile.
Source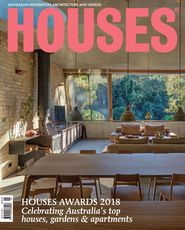 Issue
Houses, August 2018