Jury comment
Sited on and leaning back into a dramatic north-facing escarpment, Cabbage Tree House powerfully anchors inhabitation and mass. With stepping volumes and a plan that expands broadly to the north, the house offers a variety of spaces for activity in, around and under it.
Large sliding openings admit the surrounding landscape and adjacent terraces orchestrate a compelling way to inhabit the striated rocky ledges of the site. A limited palette of materials and an acceptance of as-found finishes means that the house is animated by texture, sunlight and landscape.
Luxury is found in voluminous, expansive rooms and openings rather than lavish appointment or finish. Thermal comfort is prioritized by careful orientation and ample earth-connected mass. Privacy and communality are deftly managed in the plan of the house, with a central elevated living area and vertically separated, or horizontally splayed, bedrooms and bathrooms. A study at the rear of the main living area opens to a court that has been subtracted from the hillside, allowing both ends of this remarkable room to be naturally lit and ventilated.
The Cabbage Tree House impressively exploits architectural opportunities and expresses a striking sense of permanence.
See full image galleries of all the winning and shortlisted projects here.
The award for New House over 200 m2 is supported by Think Brick Australia.
Source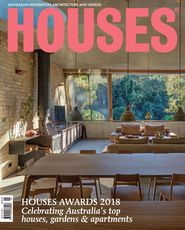 Issue
Houses, August 2018