Jury comment
Nightingale 1 is the beginning of an ambitious experiment that aims to shift the status quo of apartment design in Australia. It is the commitment and self-belief, plus the tireless campaigns, that make this project so successful, sustainably.
Nightingale 1 achieves all the standard environmental sustainability benchmarks; however, it is the social and economic elements that make it a sustainability masterpiece: generous communal amenities, useable public space, alternative finance structure and clever and efficient construction techniques. The project also attains carbon-neutral operation using a fossil fuel-free embedded network.
In addition to all its design and sustainability credentials, the building and its apartments are elegantly designed and comfortable. The glam-without-the-glam detailing is omnipresent – there is delight in the rawness of the materials and textures as soon as you enter the ground-floor lobby.
The building encourages its inhabitants to lead a more sustainable lifestyle through the sharing of laundry facilities, growing vegetables, learning to work together as a community rather than isolated households, and taking the train or riding a bike to work.
Nightingale 1 aims to use architecture "as a catalyst for building community." For this reason, it is an undoubtedly impressive example of sustainable architecture.
See full image galleries of all the winning and shortlisted projects here.
Award for Sustainability is supported by Sussex.
Credits
Architect

Breathe Architecture
Melbourne, Vic, Australia
Project Team

Jeremy McLeod, Fairley Batch, Tamara Veltre, Bonnie Herring, Daniel McKenna, Madeline Sewall, Mark Ng, Adilah Ikram Shah, Emily McBain, Zac Evangelisti, Daniel Moore, Lola Digby-Diercks , Shannon Furness, Bettina Robinson,
Consultants

Builder Project Group
Civil and structural engineer Form Structures
Fire engineer Thomas Nicolas
Landscape Openwork, Oculus Landscape Architecture & Urban Design
Photographer Peter Clarke, Eve Wilson
Services engineer Lucid Consulting Australia

Site Details
Project Details

Status Built
Category Residential
Type Apartments

Source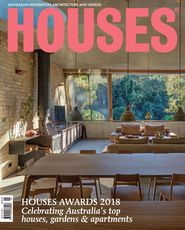 Issue
Houses, August 2018