As new building developments hit fever pitch in cities around the world, this year's Housing Futures conference tackled the issue of where and how we will live in rapidly growing urban centres. Held at the Eternity Playhouse in Sydney, the event formed part of Architecture Media's Design Speaks program. Local architects Angelo Candalepas of Candalepas Associates and Jacqui Alexander of Alexander Sheridan Architecture, along with Chicago's Alison Von Glinow of Kwong Von Glinow and Go Hasegawa from Go Hasegawa and Associates in Tokyo, joined sociologist Saskia Sassen, academic Philip Oldfield and urban designer Andy Fergus from Nightingale Housing for a series of frank insights into the current state of play. Spoiler alert: it is not all rosy. But there were examples of positive change, which Sassen described as "a real advancement in how you crawl into these emergent, complex, but disagreeable, and in a way often negative situations … and how to find the positive way."
Working with this scenario, keynote speeches and case studies explored what makes a residential development work and how we regulate quality at a time when a short-term, calculator-driven model is at its peak. To get a grip on just how fast cities are growing, the United Nations has measured it and the numbers are staggering. A total of 193,107 people are added to our urban populations every day, which over three to four weeks is equivalent to the population of Sydney. So how do we create community as cities get larger, what kinds of communities do we want to live in and how will this affect living standards and expectations? One response is to create new models for housing that shift the status quo from the speculative developer model to a cooperative model based on a capped profit margin and a foundation built on shared values. Another is finding inventive ways of influencing design from the inside while working with existing off-the-plan housing models.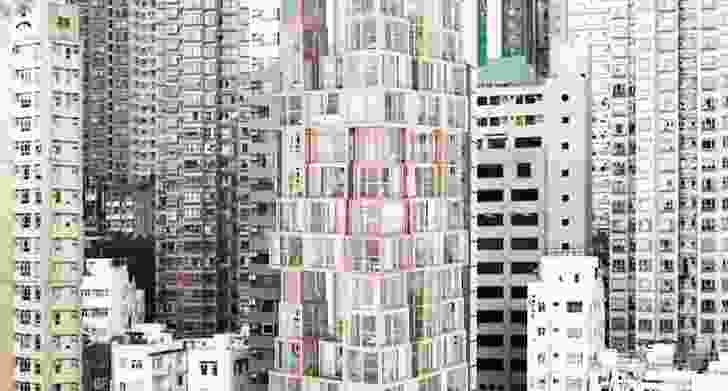 Von Glinow described her studio's research into reinventing the familiar. In the US only 2 percent of buildings are designed by architects, and 98 percent are built off the plan by builders, so the studio is exploring ways to make change by stealth. "As young architects our mission is to enjoy architecture," she enthused. "We bought a $14 Ultimate Book of Home Plans to understand if there is something that we could insert into these plans, something that we could 'smuggle in' to change their everyday life."
Applying that research has shaped the eighteen-month-old practice and its apartment and housing projects in Hong Kong and Chicago as well as spatial speculations for a competition for 300,000 apartments in New York City. Here the practice's focus was on how to provide more options across housing types and affordability, while creating inventive spaces between units to bring in light and air and connection with the neighbourhood. Interestingly, instead of designing specifically for one single site, the Kwong Von Glinow approach looked at aggregating sites with a system of modules that would work on the smallest lot size in New York City. The flexibility of the approach could arguably also work in Sydney, Mumbai or Mexico City.
"Yesterday I visited the Sydney Opera House. It is one of my favourite buildings," said Hasegawa during his keynote address "Elastic Space." "It's very beautiful but it's a pity when I look back [I see] a lot of ugly towers … This is familiar all over the world. What is the quality of the apartment building nowadays … It is a shame and it is embarrassing as an architect. So how do we overcome this homogenization … I really want to fight against this."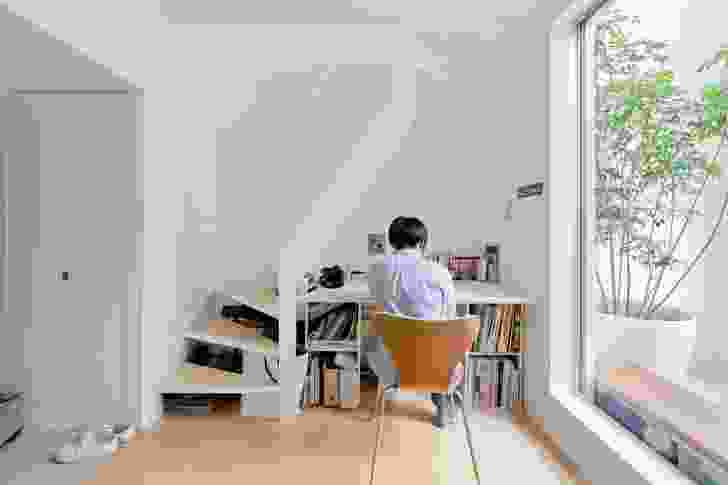 Opening his Tokyo studio in 2005, Hasegawa designs buildings that are anti-homogenization. His buildings are gymnastic and joyful, drawing in light and air and views within the constraints of one of the world's most tightly packed cities. An inventive reworking of an apartment building in Nerima, Tokyo makes a few simple yet key edits. Focusing on reinventing the balcony, traditionally small and providing only storage space for bikes and airconditioning units, Hasegawa has wrapped the building with a new facade that creates liveable corridor spaces and an expanded interior, layering and protecting the living experience and tempering private zones with views to the city and surrounding gardens. A new building in Okachimachi, also in Tokyo, explores the forgotten spaces, the gaps between buildings, which he describes as a social space to explore. The building is opened up horizontally and vertically, providing light and views within and through it, and its plan gives each apartment a uniqueconfiguration.
On a more sombre note, Sassen described the high investment sector's "dark pools," a financing model focused on the acquisition of buildings by large corporations whose mission is not to invest in cities themselves, but to acquire a collection of asset-backed securities. "Derivatives" is the word used and buildings around the world, from New York to Singapore to Melbourne, are being bought and often left empty, which Sassen says "de-urbanizes urban space." Her work in "tactical analytics" explores the holes in macro- and micro-economics to reveal the transformation that is happening in financial sectors around the world and its impact on our cities.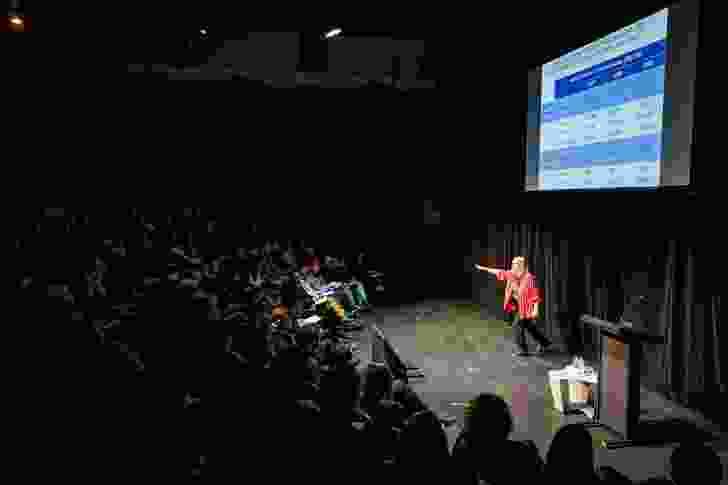 Three case studies brought together research and practice focused on other ways of making cities. Oldfield, a senior lecturer in high-performance architecture at the University of New South Wales, discussed the Pinnacle@Duxton in Singapore, a residential tower that houses communal sky gardens fifty floors above the city. In a climate that supports elevated outdoor living, this project is a great example of addressing community needs in a city short on space. However, his research also highlighted the fact that the teething problems with this new development and the residents' frustration at the heavy-handed rules for using the space remind us that design doesn't end when the building is finished. Design thinking has to permeate throughout the life of a building too.
Also looking at the sharing of public and private space, this time through the lens of Airbnb, Alexander explored the domestic and urban implications of home sharing at a time when private spaces are becoming more public and public spaces more privatized and we are experiencing a general squeeze on housing. She argues that in Melbourne, Airbnb has fuelled the sprawl of homogeneous dwellings in the inner city. Considered unliveable by residents, these buildings have found a new market as holiday rentals. Her research highlights a need for new council planning and building classifications to keep up with new shared housing typologies. Alexander's Pavilion House, imagined on an empty site in Footscray, tests a new flexible housing model that flips the negative aspects of home sharing to create equitable housing and reclaim neighbourhoods.
Fergus also focused on community making, sharing the backstory of Nightingale Housing in Melbourne. His advisory role across research and design review has taken him to cooperative developments around the world, particularly in Germany and the Netherlands, where housing diversity and equity are central to cooperative housing. It is a model that is shifting the culture of cities through a bottom-up approach based on owner-initiated buildings. It also gives back design licence to architects, who design and lead projects. Critics claim that the model is just another form of gentrification, but citizen-orientated models done well also benefit the communities around them. In Australia, Nightingale now has five projects at various stages of development across Melbourne and in Fremantle and a long waiting list. Its success lies in the quality control and peer review that help to ensure the best outcomes for residents, enhancing the quality of life in our cities.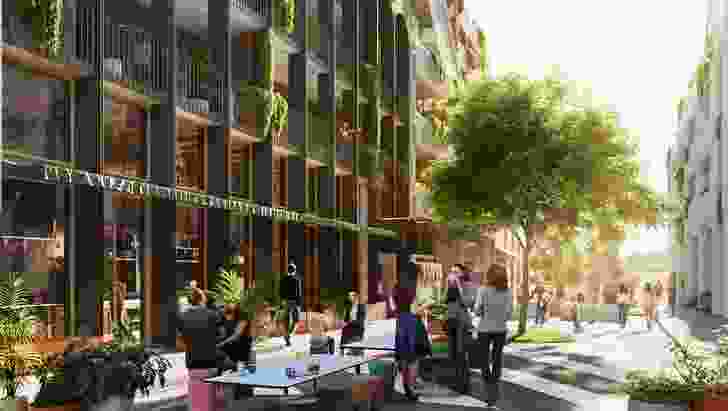 "It's about how you deal with the relationships, with people, and how much care you put into it," remarked Candalepas, who described his practice and process through a series of finely detailed projects, from individual houses to multiresidential developments. Candalepas takes his clients on a very personal journey with a focus on friendship, on understanding and on architecture that elevates life. Stories weave together ideas for achieving quiet spaces that flow. He talks about the quality of materials, the beauty of hand drawings, the right clients who will support the process and the importance of walking away when those dynamics are not right. It is a role that could be described as equal parts educator and oracle. The care and generosity that go into these relationships shine through in his buildings.
This interactive forum has established an important barometer, bringing together local and international practitioners, researchers and academics dedicated to making, to measuring the influences that are shaping our cities and to the complex issues that need to be tackled. If we want to make cities that we will actually enjoy living in, a collective vision is needed. The complexity of this is brought into focus by projects that break free of the conventional mould, demonstrate ways to subvert the homogeneous, negotiate the fine line between regulation and innovation, and bring the community into conversations about cities and design that are shifting the status quo.
Housing Futures is part of Architecture Media's Design Speaks program. Visit www.designspeaks.com.au for more information.
Housing Futures is supported by principal partner Blum and major partners King Living, PGH Bricks & Pavers and Roca. The Design Speaks Symposia 2018 presenting partner is Taubmans.
Related topics