2018 National Prizes: Gold Medal
Gold Medal: Alec Tzannes (Tzannes)
2018 National Prizes
Australian Institute of Architects
Jury citation
The Gold Medal, the Australian Institute of Architects' highest honour, recognizes distinguished service by architects who have designed or executed buildings of high merit, produced work of great distinction resulting in the advancement of architecture or endowed the profession of architecture in a distinguished manner. The 2018 Gold Medal is awarded to Emeritus Professor Alec Tzannes AM LFRAIA.
The outstanding contribution Alec Tzannes has made to the architectural profession exemplifies the highest level of achievement within each of the criteria. He has executed an exceptional body of work across a broad spectrum of architectural practice. Alec has given exemplary service and leadership within the profession, academia and related fields.
His exceptional talent was recognized at an early age when he was awarded the University Medal upon graduation from the University of Sydney and the Sir John Sulman Prize for Architectural Design. Following graduation, Alec received a Fulbright Award and a scholarship to undertake a Master of Science in Architecture and Urban Design at Columbia University. After a period in the New South Wales Government Architect's Office and as an associate of architect Glenn Murcutt, Alec commenced his own practice in 1982.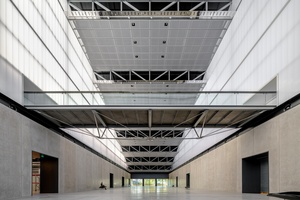 Alec's early residential projects were characterized by an interest in fine materials and carefully considered detailing, as well as a sensitivity to historical precedent and context. These preoccupations have continued throughout his career, his work demonstrating an interest in spatial and tactile qualities and always delivered with innate good manners and responsible environmental performance. At the forefront is a passion for the design of the city and the integration of architecture, urban design, landscape and art. A visionary leader, Alec is one of Australia's most accomplished architects, designers and urban strategists. He is a consummate creator and an insightful thinker with an extensive portfolio of work from over three decades of professional practice. The State Library of New South Wales holds archives of many of his original drawings and sketchbooks.
The work of Tzannes' practice is widely published and has been honoured with more than 100 local, state, national and international architecture awards. Some of the best known projects in Sydney include the Federation Pavilion at Centennial Park, Cathy Freeman Park at Homebush, the Brewery Yard at Central Park, urban furniture for the City of Sydney and numerous educational and residential works. His most recently completed projects include International House Sydney in Barangaroo and Dangrove, a state-of-the-art museum storage, research, education and logistic facility in Alexandria. Both of these embody innovative typologies for contemporary and responsive architecture.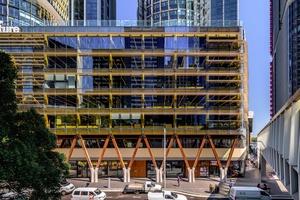 Alec was appointed dean of the Faculty of the Built Environment at the University of New South Wales (UNSW) in 2008, where his commitment to excellence in design studio education drove curriculum change. He enabled closer partnerships with industry, giving UNSW students unprecedented access to the best practitioners locally and internationally. Alec oversaw the appointment of the inaugural Seidler Chair in the Practice of Architecture, Judith Neilson Chair in Architecture and Anita Lawrence Chair in High Performance Architecture, the first of their kind in Australia. Under Alec's leadership the faculty enjoyed increased philanthropic support and the formation of a graduate school with cross-disciplinary streams for teaching and research.
Having stepped down as dean in 2016, Alec remains closely involved in the life of UNSW as an emeritus professor engaged in teaching and research. In recognition of his service, the UNSW Council conferred the degree of Doctor of the University, honoris causa on Alec in 2017.
Throughout his career, Alec has also engaged in an active public life, lending his expertise to multiple boards and committees, including Prime Minister Keating's Urban Task Force, the Heritage Council of New South Wales and design review panels for Sydney Olympic Park, Centennial Park and Moore Park Trust and the Transport Infrastructure Development Corporation. He is currently a member of the UNSW Foundation Board and chairs the Australian Institute of Architects Foundation.
He served as the national president of the Australian Institute of Architects in 2007–08, contributing to the formation of many enduring initiatives and policies. Testament to his talent and generosity of spirit, Alec was named a Member of the Order of Australia (AM) in 2014 for his significant service to architecture, as a practitioner and educator and through professional organizations.
Alec is an outstanding practitioner and academic. His dedication to teaching, research and pedagogy has contributed significantly to the health of the profession in the future. Alec's engagement in a wide range of advisory roles continues to strengthen the value and standing of architects within government and the community. Alec is a consummate advocate for architecture and a great champion of the architectural profession. His distinguished body of work and his ethical approach to architecture, along with his determination, passion and continuing curiosity, make him a most worthy recipient of the 2018 Gold Medal.
Jury
Richard Kirk LFRAIA (Chair) – President, Australian Institute of Architects and Director, Kirk
Ken Maher LFRAIA – Immediate Past President, Australian Institute of Architects and Fellow, Hassell
Philip Goad FAHA LFRAIA – Redmond Barry Distinguished Professor and Chair of Architecture, University of Melbourne
Andrea Nield FRAIA – Principal, Studio Nield; and Penelope Seidler AM LFRAIA – Harry Seidler and Associates