Winners revealed: 2018 New Zealand Architecture Awards
The New Zealand Institute of Architects presented awards to this year's best projects at a gala event at The Museum of New Zealand Te Papa Tongarewa in Wellington on 9 November. Awards were given to 17 buildings and structures from across the country.
This year's jury was made up of Peddle Thorp director Richard Goldie, founder of Bell and Co Architecture Andrea Bell, Wellington architect John Melhuish and Melbourne-based architect Amy Muir.
See below for a full list of winning projects with jury commentary. More in depth coverage of the awards can be found in the November/December issue of Architecture New Zealand.
John Scott Award for Public Architecture
St Andrew's College Centennial Chapel – Architectus
The new chapel at St Andrew's College overtly references its much-loved quake-ruined predecessor through the incorporation of numerous salvaged heritage elements. This integration is achieved with a rare appropriateness and thoroughgoing integrity. The new chapel is accessible to the wider community, as well as the college of which it is the heart, and is exemplary in a city still in recovery, in the way in which it responds to the needs of the present while acknowledging the legacy of the past.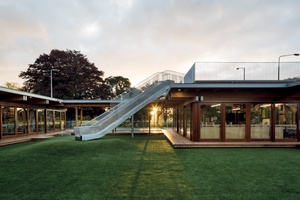 Ted McCoy Award for Education
Cathedral Grammar Junior School – Andrew Barrie Lab and Tezuka Architects
Cathedral Grammar Junior School is a lovely, humane learning environment that captures the joy of childhood. The use of excellently detailed natural materials complements the comforting courtyard arrangement, and slides from the roof are a welcome encouragement to youthful adventure. The building is an inspiring addition to post-earthquake Christchurch.
Sir Ian Athfield Award for Housing
Kawakawa House – Herbst Architects
The Kawakawa House is a sensitively designed retreat that pays due respect to the wild beauty of Auckland's west coast. Occupation must be a pleasure, no matter what the season or weather. The house connects just as well to the pōhutukawa forest in which it sits, as to the beach it overlooks. A central courtyard brings nature into the heart of the house; the effect is invigorating and inspiring.
Sir Miles Warren Award for Commercial Architecture
Mezz Box – Edwards White Architects
The Mezz Box is an elegant addition that fulfils its commercial function, enhances the existing building and makes a commendable contribution to the public realm of a new urban park. The project is imaginative and well-considered, and should prompt reconsideration of the relationship of the Hamilton CBD and the city's outstanding natural asset – the Waikato River.
Commercial Architecture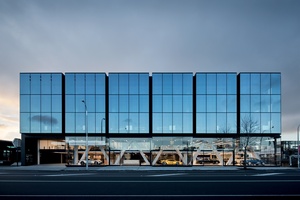 119 Great North Road – Warren and Mahoney
The building is to car showrooms what Cartier is to jewellery stores. The strong geometry and rigorous assembly [provides] a flattering frame to the sleek and sinuous forms of prestige automobiles. The same exacting standards are evident in back-of-house areas, where the theatre of maintenance and servicing is performed in spaces respectful… of the cars [and] those who work on them.
Education
The University of Auckland Science Centre – Architectus
A complex project with many goals… The architects have met the programmatic requirements and contextual obligations of a demanding brief in a sophisticated and coherent building, which enhances the university campus and the wider cityscape.
Enduring Architecture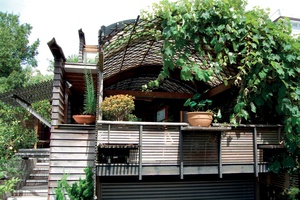 Heke Street House (1988) – Mitchell and Stout Architects
… one of the best New Zealand urban houses of the last 30 years… its intent is even more evident now than it was at the time of construction. Nature is embraced: the front terrace seems to reach the treeline; and the rear is given over to a pond. As sufficient as a yacht and as magical as a spell, the Heke Street House is a compelling vision for Auckland life.
Hospitality and Retail
Amano – McKinney and Windeatt Architects
… a delightful and engaging guest experience. Clever spatial sequencing provides for both a vibrant communal atmosphere and a discrete separation of different dining areas. The architect has made the most of the found condition of the site, stripping back the interiors of two heritage buildings to expose their raw structures, and complementing them with a carefully balanced material palette.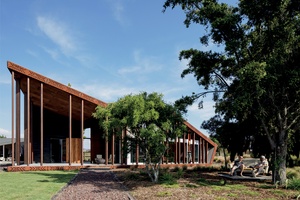 Housing
Tūrama House – RTA Studio
This intriguing and innovative exercise in fusion architecture blends house and whare and family dwelling and whānau retreat. Rooted in familial whakapapa, informed by genealogical ley lines and sheltered by a protective korowai, the house is an overt attempt to express an indigenous architecture that is more than skin deep.
Rawene House – Stevens Lawson Architects
Volumetric control, a lovely spatial flow, adept handling of natural light and well-chosen and crafted materials combine to produce a calmly ordered and serene home. Courtyard spaces on either side of a central spine punctuate progress through the house and, without overt delineation, organise the building into discrete zones.
Housing – Alterations and Additions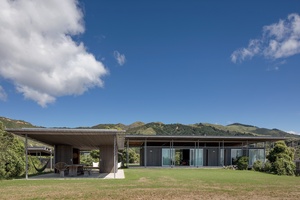 Bach with Two Roofs – Irving Smith Architects
A new house… among a stand of eucalyptus trees was suddenly exposed by a cyclone that felled the forest. Responding to… the new circumstances of site habitation, the architect has adjusted the design so that the house provides the shelter once offered by the trees. The effect of the additions has enriched an already accomplished house; the contrast of the hovering roof over the box forms, which shelter dark, strong interiors, and the bright Tākaka light is now even more effective. 
Interior Architecture
Christchurch Justice and Emergency Services Precinct – Warren and Mahoney, Opus Architecture and Cox Architecture
This complex and locally unprecedented project… exhibits appropriate gravitas… leavened with serenity through material and colour palettes which introduce necessary warmth and legibility… The genuine integration throughout the building of mahi toi is especially welcome.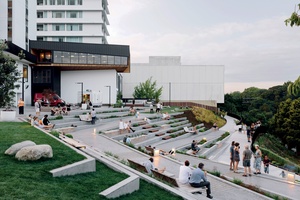 Planning and Urban Design
Victoria on the River – Edwards White Architects and AECOM New Zealand in association
At last, a well-planned and well-executed connection has been established between the [Hamilton] CBD and the river that runs through the city and was the reason for its foundation. The park's siting and shaping, its generous scale and high level of amenity have immediately rendered it a valuable civic asset. The design entices people to enter and encourages them to linger. Part viewing platform, part piazza, Victoria on the River is a further example of highly successful public urban space in regional New Zealand.
Vinegar Lane – Isthmus Group
…small freehold lots occupied by four-storeyed buildings organised around a central laneway achieve a nice balance between design coherence and individual expression… [where] mixed-use activity at ground level is totally in keeping with the… neighbourhood. This award recognises the preparation of an urban design 'form book'… consented prior to individual designs being undertaken… a leading, intelligent and innovative solution to a pressing contemporary challenge…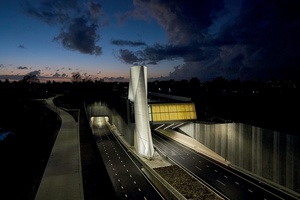 The Waterview Connection – Warren and Mahoney and The Well-Connected Alliance
Through… community consultation and engagement, the architects have added layers of civic amenity, appropriate monumentality and aesthetic appeal to a large transit scheme, which had occasioned local unease. Architectural contributions, such as Te Whitinga – the Hendon footbridge – and the road tunnel portals, transcend mitigation to provide meaningful benefit to those who live in this part of Auckland, and some pleasure to those who rapidly pass through it.
Public Architecture
Trafalgar Centre – Irving Smith Architects
A simple, elegant and robust pavilion has transformed Nelson's indoor events centre, adding amenity and providing a graceful and effective transition to and connection with Trafalgar Park. The new structure cleverly avoids the trap of treating addition as accretion; the pavilion holds its own as a piece of architecture while enhancing the existing buildings. The project… is an admirable exemplar of sustainability… [and demonstrates] the difference good architecture can make in a community.
Small Project Architecture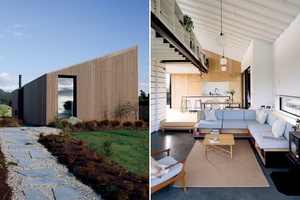 River Retreat – Edwards White Architects
This small-but-sufficient house for the architect's own family is a labour of love and the product of considerable skill. It's a case of the house as homestead: a timeless type in contemporary guise. The design is an economic but also romantic response to site conditions… [a busy highway and the Waikato River]… and the occupational demands for light and views, and privacy and a sense of shelter. Strength of form and delicacy of detail combine in a modestly scaled and delightful work of architecture.
2018 NZIA Gold Medal
Jeremy Salmond of Salmond Reed Architects
Being a successful conservation architect requires an ability to collaborate and influence; it requires knowledge, confidence and strength of conviction. In Jeremy, all these characteristics reside in great abundance. In a long career that balances pragmatism with conservation and rehabilitation with adaptation, Jeremy has led with erudition, optimism and generosity, rising to the challenges of heritage conservation in Aotearoa New Zealand, and amassing a fine body of work that is fit for appreciation and use by future generations. 
Read the interview with Jeremy here.
The New Zealand Architecture Awards is a programme run by the New Zealand Institute of Architects with the support of Resene, which has sponsored the programme for 27 years.