Jury citation
At Yagan Square, steel is celebrated as both a robust and delicate material, oscillating between background and foreground to a narrative that celebrates our past and offers a contemporary public space for the future. Yagan Square is a place created from a rich and dense overlay of stories, ideas, culture and community. Its carefully considered material palette is at the centre of its public expression and the articulation of a significant cultural landscape.
Beyond the use of steel as a structural system, perforated, etched and meticulously crafted Corten steel is deployed as a storytelling device in its own right. Its weathered surface absorbs the harsh Western Australian sun, conjuring up images of the state's mining and infrastructural heritage as well as the ferrous stone gorges and vast deserts that characterize its unique landscape.
In striking contrast, steel is also used in a delicate and ephemeral digital tower in which fourteen slender steel columns sway gently in the wind, inspired by the reeds that originally grew in the wetlands that once occupied the site and representing the fourteen Nyoongar language groups. This landmark steel structure synthesizes the relationships, conversations and collaborative efforts of the architects, client, Indigenous working group and consulting engineers in creating this memorable and timeless urban public space.
Yagan Square is located in Perth, Western Australia and built on the land of the Whadjuk people of the Nyoongar nation.
— Yagan Square was reviewed by Emma Williamson in Architecture Australia Sept/Oct 2019. To read the review, go here.
Credits
Architect

Lyons Architecture
Melbourne, Vic, Australia
Architect

Iredale Pedersen Hook Architects
Australia
Landscape architect

ASPECT Studios
Australia
Consultants

Access consultant O'Brien Harrop Access
Art Coordinator Malcolm McGregor
Builder Doric
Building surveyor Milestone Certifiers
Civil, facade, structural, traffic engineering Aurecon
Creative art template Material Thinking
Heritage consultant Griffiths Architects
Mechanical, comms, fire engineering, vertical transport, audio visual, ESD, hazardous goods, waste management, electrical, hydraulics, acoustics WSP
Quantity surveyor Slattery
Retail design Maddison Architects with Encycle Consulting and Future Food
Specialist lighting and digital services Ramus

Site Details

Location Perth, WA, Australia

Project Details

Status Built
Category Landscape / urban
Type Public domain

Source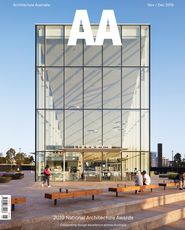 Issue
Architecture Australia, November 2019
Related topics