Jury citation
Dangrove is a two-storey private facility designed specifically for the storage, evaluation and curation of one of Australia's largest private art collections. In this masterful project, Tzannes engages complex technical pragmatics and the sublime in equal measure.
The building's lower level provides state-of-the-art facilities for core operations: storage, restoration, curation, preparation for transportation, security station, covered delivery and parking. The upper level is organized in two parts with an adjoining sculpture garden. Intended as a front-of-house, it is primarily focused around art evaluation. The first art evaluation space is a long room that runs along the street with a scalloped concrete ceiling. The second is a wedge-shaped space of impressive scale, characterized by a wall of diffuse light above a panelled concrete datum. Known as the Great Hall, it has a deeply memorable ethereal interior quality. Its single-pitch roof carries a large array of photovoltaic cells and collects water for re-use.
Notwithstanding an intentionally unceremonial stair, these two rooms feel public in their scale and material, and do indeed host multiple uses. The first room acts as a function space (served by a commercial kitchen at its far end), is a foyer to the Great Hall, and is sometimes used as a temporary display space or an event space for music and theatre.
Dangrove is designed for at least a century-long life, based on a clear set of strategies developed to ensure its endurance: robust materials, floor levels secure against flooding, services that are handy for maintenance and retrofitting, perimeter fire egress corridors as waterproofing backup and polycarbonate panels that are accessible for replacement.
The building is at ease in its context, with a long, elegant face to the street and a dramatic wedge form that speaks to the industrial history and character of Sydney's Alexandria. At once mute and highly identifiable, this is a confident architecture that will endure.
Dangrove is located in Alexandria, New South Wales, and is built on the land of the Gadigal people of the Eora nation.
— Dangrove will be reviewed by Laura Harding in a future issue of Architecture Australia.
Credits
Architect

Tzannes
Chippendale, Sydney, NSW, Australia
Project Team

Alec Tzannes, Chi Melhem (project directors), Jonathan Evans (sustainable design and design review), George Korban (project architect), Neil Haybittel, Derek Chin, Luke Novotny (architects), William Blake, Lily Tandeani, Tony Lam (designers), Kate Nason,, Sarah Reid (graduates of architecture), Elanor Hyland-Falle (lighting and furnishings)
Consultants

Acoustic consultant Acoustic Studio
BCA consultant Philip Chun
Builder Infinity
Building surveyor SDN Land Surveyors
ESD Steensen Varming
Electrical and lighting consultant Steensen Varming
Engineer TTW
Facade consultant Surface Design
Fire consultant Red Fire Engineers
Flood assessment WMA Water
Hydraulic consultant Warren Smith and Partners
Landscape consultant Oculus
Life cycle analysis The Footprint Company
Mechanical and services consultant Steensen Varming
Project manager Aver
Quantity surveyor Bylett and Associates
Town planner BBC Consulting Planners;
Traffic consultant Thompson Stanbury Associates

Aboriginal Nation

Dangrove is built on the land of the Gadigal people of the Eora nation.
Site Details

Location Alexandria, Sydney, NSW, Australia

Project Details

Status Built
Category Commercial, Interiors
Type Warehouses

Source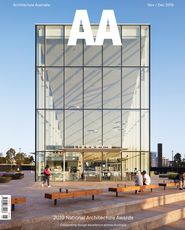 Issue
Architecture Australia, November 2019
Related topics