This year's instalment of the 35th Australasian Student Architecture Congress (ASAC), a biannual (but not always) student congress, took place in Christchurch, New Zealand over five packed days at the very beginning of October. Creative directors Elise Cautley and Riley Adams-Winch, both recent graduates themselves, worked alongside an amazing committee of passionate students from all year levels, bringing a number of notable international speakers south of the equator to explore, cultivate and interpret all things contrary to our industry's status quo.
The congress saw speakers such as Adam Nathaniel Furman; Keefer Dunn; Peggy Deamer; Jack Self; Justine Clark and Elisapeta Heta (amongst others) break down their—sometimes radically—different approaches and techniques that allow them to counter what is considered traditional and by many, deficient.
With a large cohort of students having made the trip across the Tasman from Australia, the Congress saw a variety of undergraduate and masters students come together to discover how they can mould the industry they want to enter into a healthier and more sustainable state of being. Conversations, formal presentations, and light-hearted chat over what were supposed to be "just a few" drinks pointed the congress towards two topics:
How do we address unsustainable working practices, in a manner that can result in permanent change?
How do we, as architects, communicate the value of our work?
A roundtable discussion at the end of a packed Thursday schedule brought together Adam Nathaniel Furman, Peggy Deamer and Keefer Dunn for a round table discussion at Christchurch's notable Buchan Group-designed Art Gallery, known for its glass facade that was able to resist the 2010 and 2011 earthquakes. It didn't take long for all three to hone in on architectural education, and how the employability complex, facilitated by our education providers and the wider industry, has continued to exacerbate all-nighter culture. Dunn discussed "the competition to become employed and (to) get rid of debt", and argued that cultivating employability by always working is no sane way to approach a healthy attitude towards working, at university or in practice. Some studios, famous for using chaos and insane working hours to "tap into another realm of creativity", think this is okay.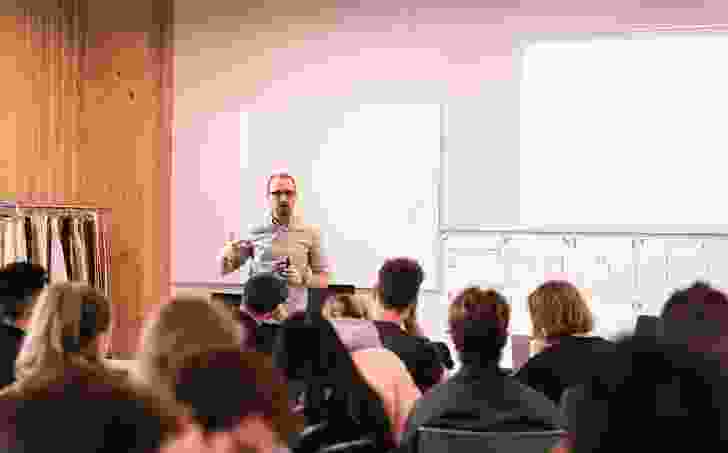 Each office will cultivate a unique environment, and sometimes a workplace won't be the most inviting place to talk about long working hours or unsustainable working practices, but what is so important for each and every one of us to realise before entering the industry is that architectural offices are businesses like any other: they operate for profit, and survive because of this. Dunn took students through the process of effective political organisation and how to be as efficient as possible when trying to transform this arena, exploring the process behind affecting positive change in the workplace: "The martyrdom of the individual is irrelevant. A collective production shutdown is how you stop profit flowing".
Deamer and Self (Skyping in from London) were key initiators in exploring the issue of communicating the value of our work as architects. As an industry, our method of communication is centred around a handful of images alongside short project descriptions. Although this may be seen as an "efficient and effective" way of exposing our work, we as an industry are doing ourselves a disservice: we are failing to make visible all the work that goes into a project. As Peggy explained, communicating the object in this way is hindering our ability to communicate value: "so much work and effort goes behind a building, this is what we need to be communicating. How we get to the object, as opposed to the object".
Due to the potency of key topics covered at this year's congress, a vast array of pitches for the following congress were delivered by groups of attending students at closing drinks, with some pitches for the following congress revolving around policy change and others revolving around regional architecture. Next year's congress, aptly titled "OCCUPY2020" and hosted in Brisbane, will primarily be focusing on built works that achieve extended outcomes beyond the direct benefit of the client, and how we as the future of our industry can achieve these extended outcomes.
Jacques Chevrant-Breton is the 2020 National President of SONA, the Institute's Student Organised Network for Architecture.
Related topics