Jury comment
Part building and part archaeological dig, this project is both unexpected and deeply innovative in its approach. There is a lot of construction here: a carport and store, a terrace and pool. The skill of the designers is particularly evident in the fact that the site appears to have been deconstructed to reveal a pre-suburban landscape.
The garden is wild and river rocks replace the typical timber deck, turf lawn or hard paving. The street benefits from this cleverly crafted insertion of the ruin/ carport hybrid. The rear private swimming pool holds the sloping site and deals with Australian pool fence regulations in a firm and creative way. The decorative concrete block pool wall evokes memories of Walter Burley Griffin and the natural world and also reads as an effective datum to contemplate the long views to the surrounding hills. This is a poetic solution to the Aussie suburban "must haves."
The Award for Garden or Landscape is supported by Tractile.
See full image galleries of all the winning and shortlisted projects here.
Source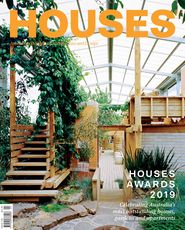 Issue
Houses, August 2019
Related topics