Jury comment
Delightfully sculptural and elegantly crafted, the striking Teneriffe House responds explicitly and exquisitely to three essential criteria: "response to context," "experimentation and innovation," and "house becomes home."
The architect's response is respectful of the culturally significant 1909 Brisbane house, which was originally designed by AB Wilson. Celebrating the existing pavilion, the stumps have been replaced with a "shadow" of indoor and outdoor rooms. Considered thresholds provide seamless transitions between ground-level living spaces and the garden plane, using inlaid bricks, smooth concrete surfaces and clipped lawn platforms.
Experimentation and innovation are expressed through dynamic forms clad in timber shakes, providing a fresh and enigmatic presence to the streetscape. De Chirico-esque off-form concrete arches are reminiscent of internal timber arches upstairs, and differentiation between old and new is achieved by white-painted existing materials balanced with new joinery elements.
The house provides a sanctuary for an extended multi-generational family, using intimate contrasting volumes connected by what the architect calls the "stair room," mediating between house and garden. It's easy to imagine garden parties here, with guests promenading through the cloister on arrival.
Subtropical Brisbane is blessed with a caring addition to its rich timber Queenslander tradition in this sublime contribution to the landscape and fabric of the city.
The Award for House Alteration and Addition over 200m2 is supported by Haymes Paint.

See full image galleries of all the winning and shortlisted projects here.
Credits
Architect
Project Team

Stuart Vokes, Aaron Peters, Emma Denman, Christopher Skinner
Consultants

Engineer Greg Killen Consulting Engineers
Landscaping Vokes and Peters with Martin Brothers

Site Details
Project Details

Status Built
Category Residential
Type Alts and adds, New houses

Source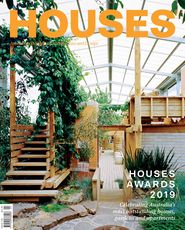 Issue
Houses, August 2019
Related topics