Milan International Furniture Fair, the largest trade show of its kind and a vital vehicle for established designers and up-and-comers alike, has come and gone for 2019.
ArchitectureAU has sifted through the thousands of new products presented at the 58th edition of the fair and selected some of the highlights.
DL Range by Dion Lee and Design By Them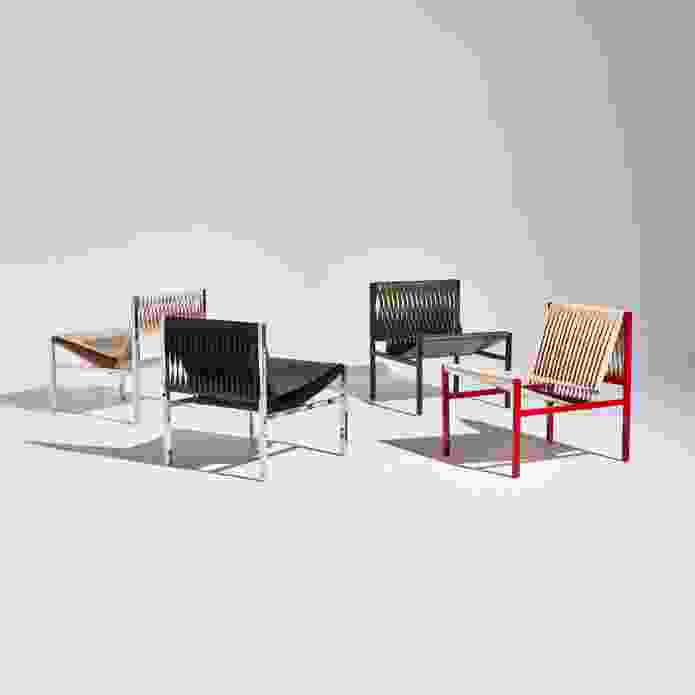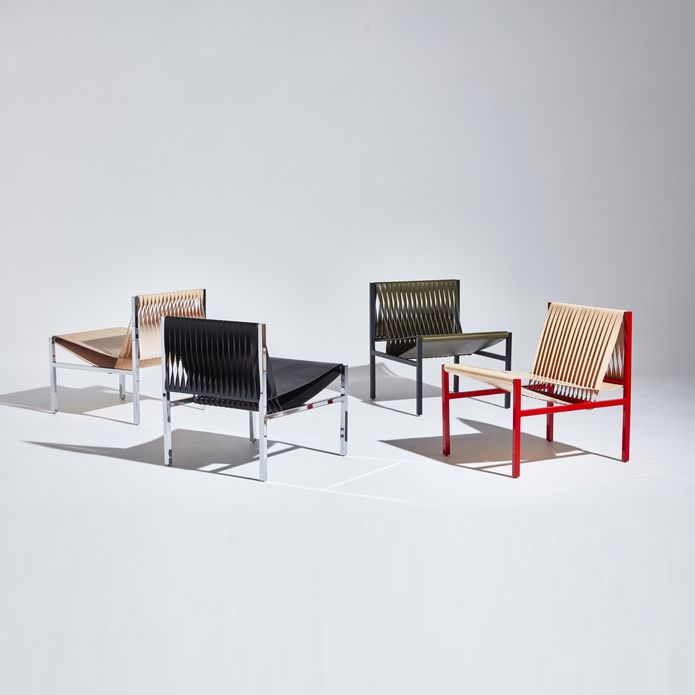 Design By Them has collaborated with Australian fashion designer Dion Lee to design a range of lounge chairs and benches, the DL Range. Inspired by the slung leather furniture of Bauhaus, the DL lounge chair and bench feature Italian saddle leather tensioned over a steel frame. The design references some of the signature features of Lee's fashion designs, particularly in the way the saddle leather is woven throughout the metal frame, creating a fluid yet geometric form.
Sigmund desk by Studio Asai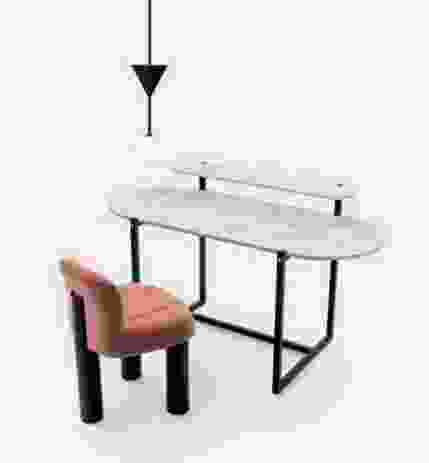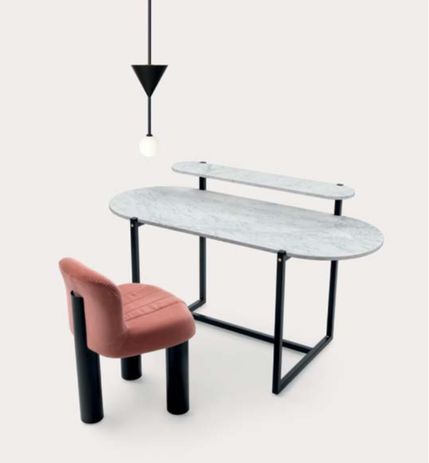 Parisian designer Studio Asai launched a sculptural writing desk for Arflex. The Sigmund desk features elegant elliptical forms and is distinctive for the bold juxtaposition between the white marble surface and black legs. A range of Sigmund side tables were also launched at the fair, following on from the Sigmund day bed, released in 2018. Arflex products are available in Australia through Poliform.
S600 line by Inax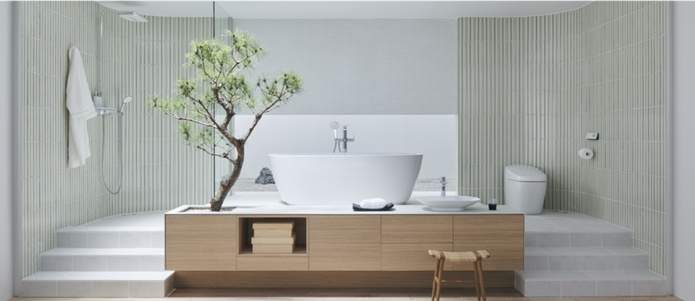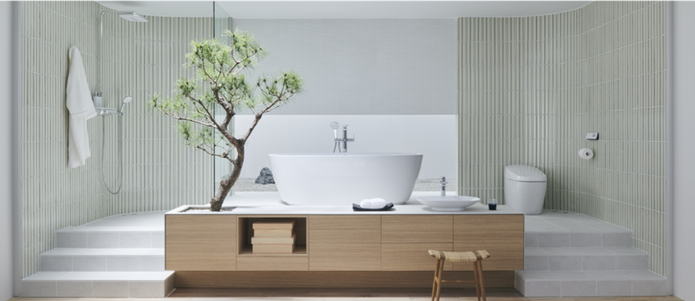 Japanese tile manufacturer Inax unveiled two new bathroom collections in Milan, the S600 line and the S400 line. The S600 line takes its inspiration from Japanese living spaces and the importance of water and rituals in Japanese culture. "We wanted to create a new bathroom experience that embodies Japan and what it stands for; its culture, traditions, and the everyday rituals of water we go through to purify and transform ourselves," said designer Yasuhiro Shirai. Inax products are available in Australia through Artedomus.
Artistic and Traditional by Smeg and Dolce and Gabbana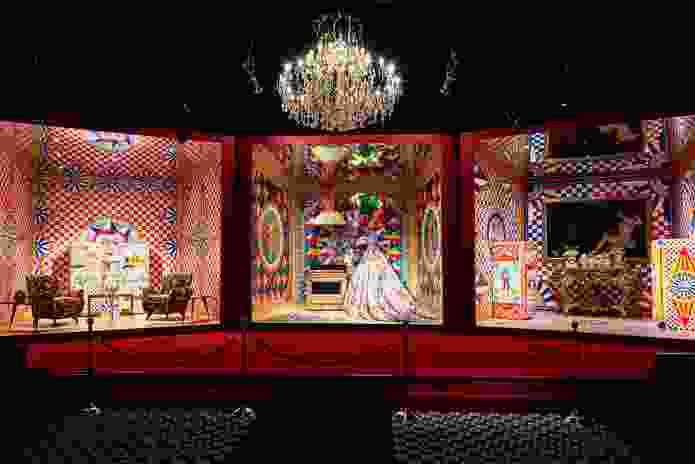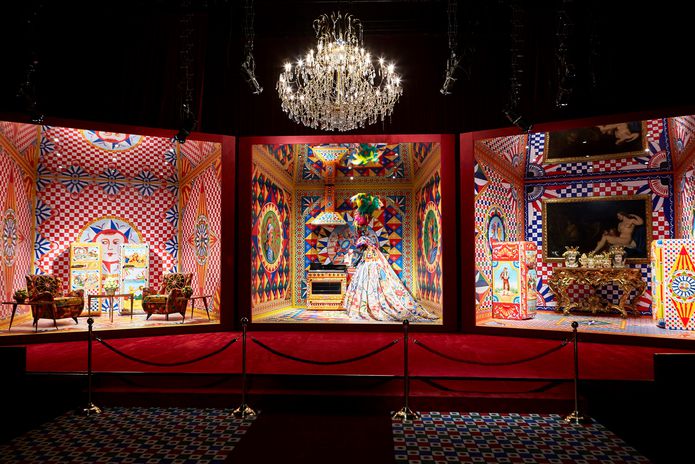 Smeg and Dolce and Gabbana's Aristic and Traditional exhibition at Milan celebrated products the two Italian companies have collaborated on including the Sicily is my Love and Divina Cucina appliance collections. The exhibition paired appliances and fashion items to tell the story of the ingenuity and manual skill that lie behind their conception and creation.
Leva chair by Foster and Partners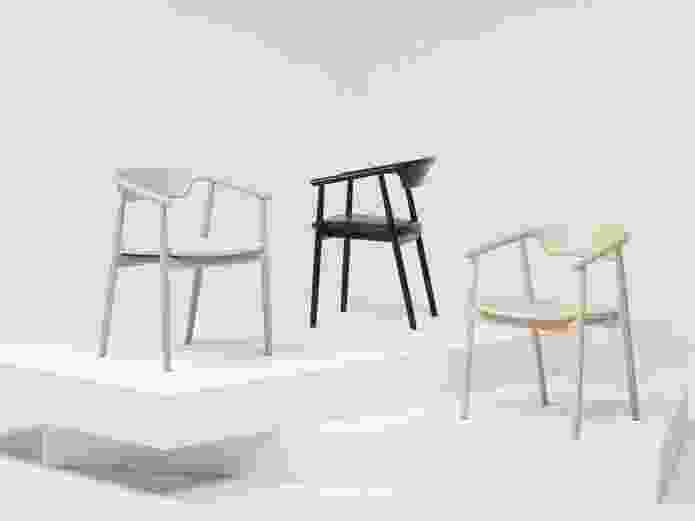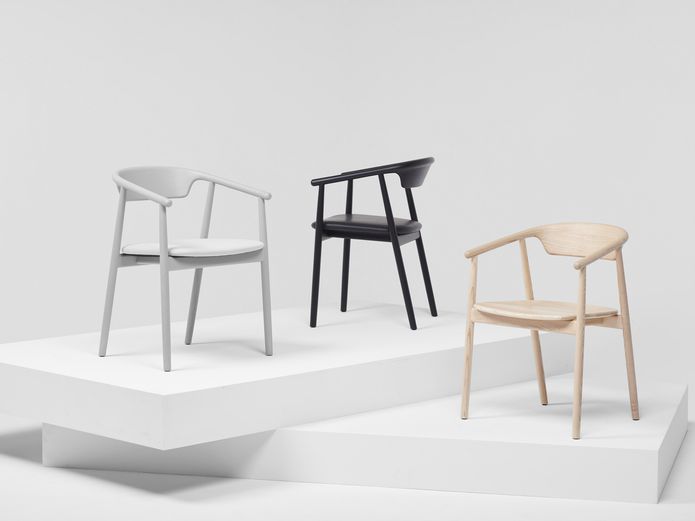 Designed by Foster and Partners for Mattiazzi, Leva is inspired by the efficiency of form and materiality of an oar. Mattiazzi combined craftsmanship with sophisticated machinery to create the comfortable and ergonomically designed chair. Its seemingly simple shape is the result of complex surfacing that optimizes the chair for mass production. The sparing use of material is rooted in the idea of sustainability – to do more with less. Mattiazzi chairs are available from District.
Crawford lounge sofa and side table by Tom Fereday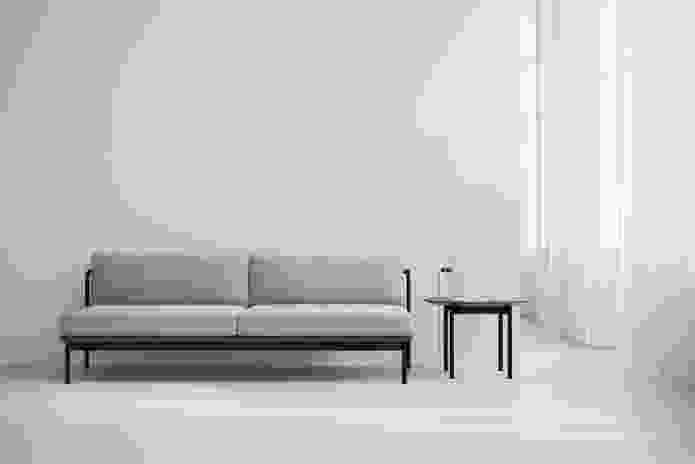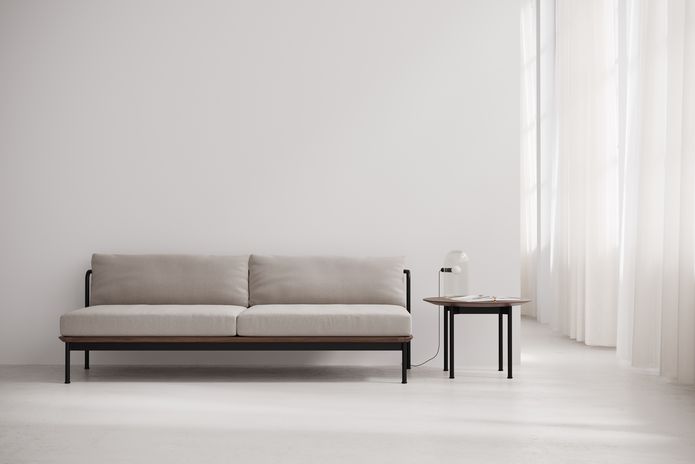 The Crawford Collection, designed by Australian designer Tom Fereday for the Shanghai manufacturer Stellar Works, comprises a sofa, a bed, a dining chair and a range of tables. The collection aims to celebrate Asian sensibilities but reinterprets them for an international audience. It also represents a fusion of cultures that celebrates the growing design movement in Asia Pacific. The collection uses sustainable materials and designs that are designed to last, including FSC-rated sold timbers, natural fabrics and removable steel frames. The Crawford Collection is available at Lane Crawford.
Michelle chair and stool by SP01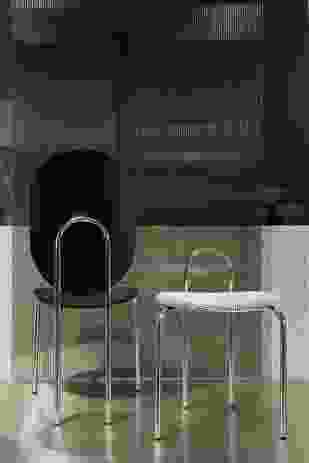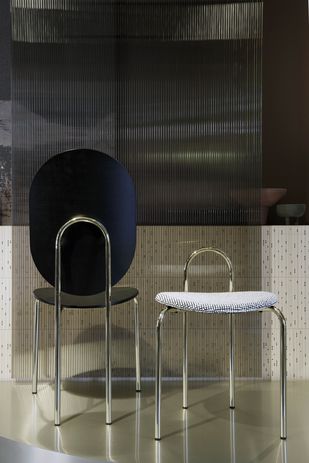 Inspired by the arch that defined the Michelle mirror series, this new seating collection by SP01 is an exercise in pure, architectural geometry. On their own, the Michelle chair and stool can make a subtle statement. When arranged in a group, whether it be at the dining table or as side stools, the framed arch backs become an ordered repetitive element that references the classical colonnade.
High Fidelity rug by Fornasetti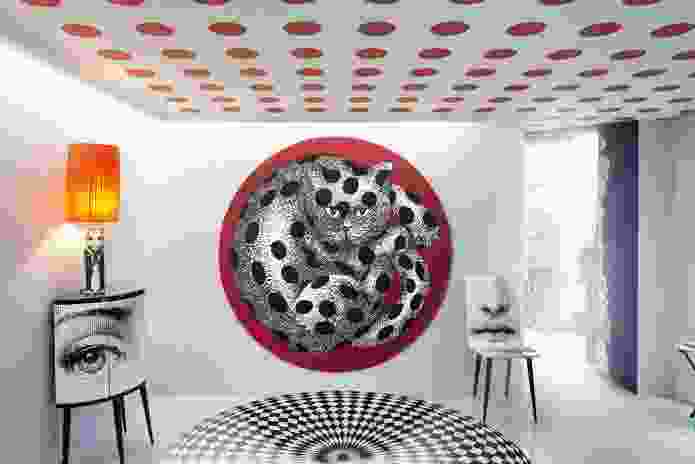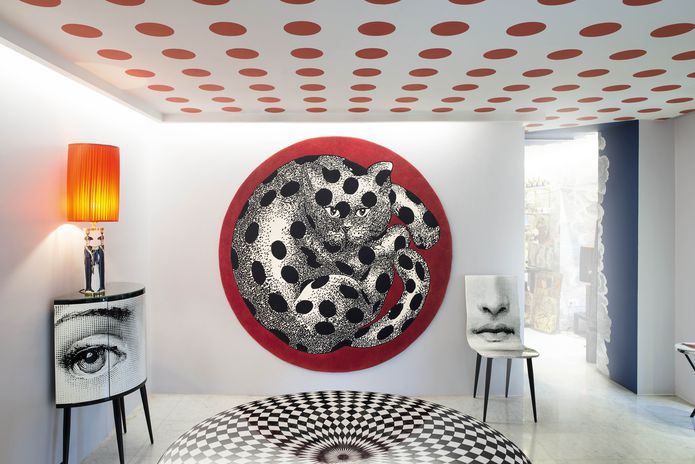 The Milanese atelier Fornasetti presented a range of new creations at the Fornasetti Store in Milan this year, including the High Fidelity rug, pictured. The rug collection was featured alongside tables, cabinets and trays, as well as ceramic cats. Fornasetti rugs are all hand-tufted.
Symfonisk speakers by Sonos and Ikea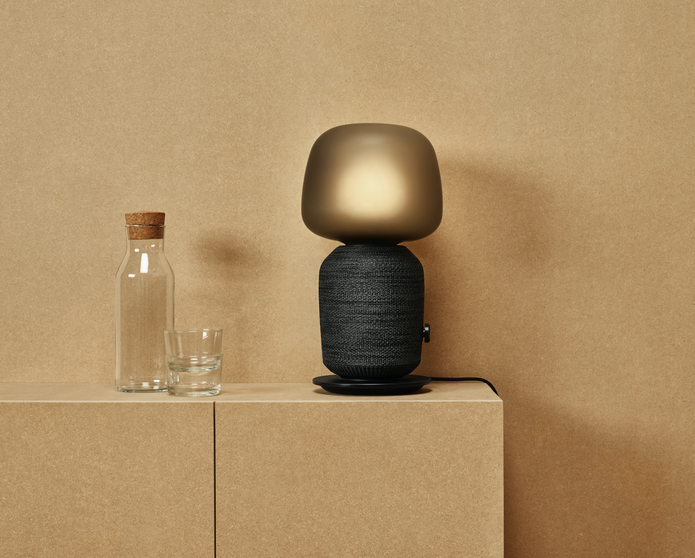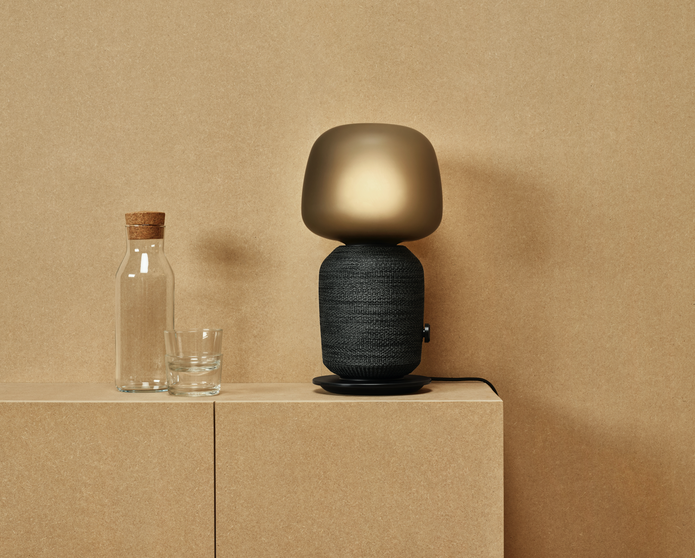 Ikea and Sonos presented the first products in their new range of speakers, Symfonisk, including a speaker-cum-table lamp which Ikea describes as "our loudest table lamp ever."
"We knew from the start that we wanted to challenge the traditional high-tech aesthetics. The lamp-speaker partly springs from the idea of the fireplace – one single piece that spreads warm light as well as sound," says Ikea designer Iina Vuorivirta.
Francis table by Petite Friture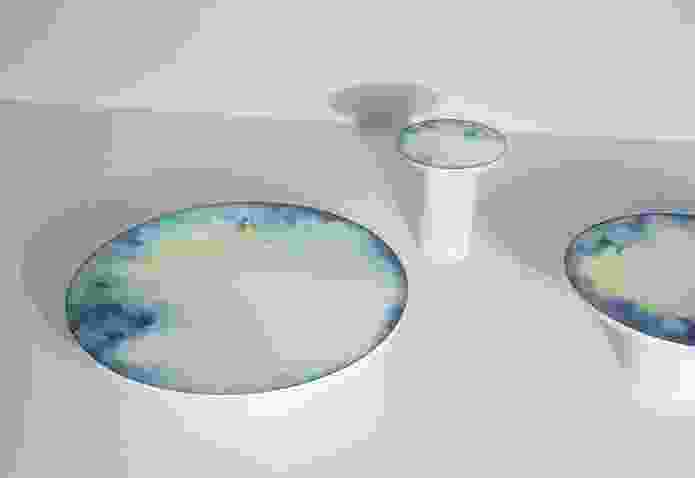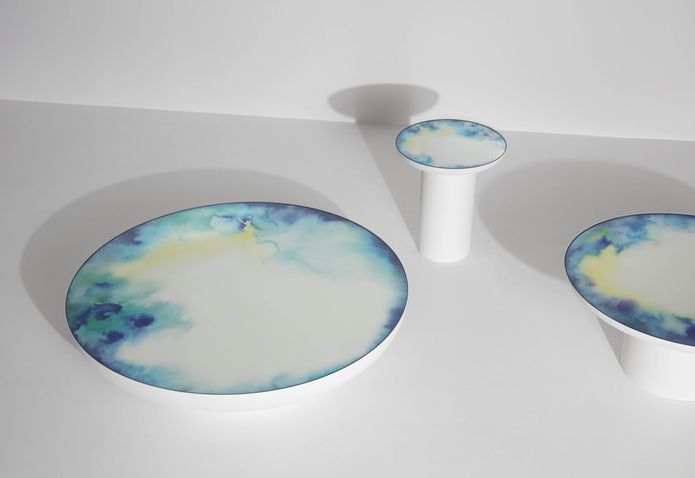 French design house Petite Friture's distintive looking Francis table references "the fleeting vision of colour billowing off the tip of a paintbrush as it is dipped in water." Petite Friture released two versions of the Francis table in Milan, a black version which features warm tones of pink and violet and a white table with hues of yellow and green.
Fat Tulip sofa by Nau
Nau presented its Fat Tulip sofa (designed by Adam Goodrum) at Local Milan in the 5 Vie district, an exhibition featuring the work of 44 Australian and New Zealand designers. A modern take on the traditional club chair, the Fat Tulip sofa features strong intersecting curves that create immediate graphic interest; it's a no-fuss design that needs no embellishment. Also reprented at Local Milan were New Volumes, Volker Haug Studio, Tait, Porcelain Bear and A Design Studio. Nau products are available from Cult.