Jury citation
The new Members' Annexe for Victoria's Parliament House is an impressive benchmark for sustainability in our public buildings. To fully understand the impact of this building, it is necessary to understand the former Members' Annexe in the neighbouring heritage building. Inequitable rooms, insufficient access to natural light and poor thermal and acoustic performance all combined to create stressful working environments for our democratically elected representatives and their staff.
In dramatic contrast, Peter Elliott Architecture and Urban Design has delivered a project that, through skilful planning, provides equity in room allocation as well as generous and universal access to light and views. It maintains thermal comfort through the use of a progressive geothermal energy exchange system, eliminating the need for conventional chillers.
A masterful design strategy repurposes the building's entire footprint as trafficable landscape by excavating the structure into the site so that it morphs with the surrounding gardens. The result is a low-level building that has minimal impact upon the broader precinct yet creates a striking two-storey elevation nestled within a sun-drenched courtyard. Passive solar principles configure the majority of rooms toward this courtyard, allowing unhindered views to the heritage buildings, garden and broader city fabric beyond.
Internally, local stone and timber has been used, helping to sustain local economies and reduce the project's carbon footprint. These robust and carefully selected materials combine to create a series of calm and light-filled circulation spaces that connect seamlessly back to Parliament House.
This project shows what is possible when a truly skilled architect works respectfully with a client and has the capacity to embed sustainability credentials into every aspect of the design decision process. The result is an exceptional building that improves the often-hectic working lives of its inhabitants and that will surely support Victoria's democratic system for the next one hundred years.
The Parliament of Victoria Members' Annexe is located in Melbourne, Victoria and is built on the land of the Wurundjeri people of the Kulin nation.
For more coverage, see Dimity Reed's review from Architecture Australia Mar/Apr 2019.
Credits
Architect

Peter Elliott Architecture + Urban Design
Melbourne, Vic, Australia
Project Team

Peter Elliott (design architect), Catherine Duggan, Sean van der Velden, Chris Jones, Grant Dixon, Juliet Maxsted, Geoffrey Barton, Justin Mallia (project architects), Tim Foster, Hosna Saleem, Shigeru Iijima, An Thai (graduates of architecture)
Consultants

Aboriginal heritage consultant Andrew Long and Associates
Access consultant Architecture and Access
Acoustic consultant Acoustic Consulting Australia
Arboriculture consultant Glenn Waters Arboriculture
Builder Icon
Building surveyor Philip Chun
European archaeologist Archaelogical and Heritage Management Solutions
Facade engineer AECOM
Geotechnical and environmental consultant Douglas Partners
Heritage consultant Trethowan Architecture
Landscape architect TCL
Quantity surveyor Slattery
Signage and wayfinding Melbourne Architectural Signage Studio
Structural, services and civil engineer and ESD consultant Irwinconsult

Site Details

Location Melbourne, Vic, Australia

Project Details

Status Built
Category Landscape / urban, Public / cultural

Source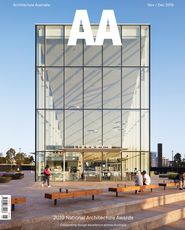 Issue
Architecture Australia, November 2019
Related topics