Jury citation
In Terrarium House, John Ellway has completely transformed a former single-bedroom timber cottage into a rich and delightful home with space for guests. A surprising spatial diversity is achieved through a series of simple but radical strategic moves.
On a site in inner Brisbane that slopes steeply away to the north, the original cottage was built with its verandah opening directly onto a narrow street. The architect has carefully repaired the cottage and retained its cellular rooms as bedrooms. New kitchen, dining and living spaces have been introduced within the former open undercroft at garden level. Upper and lower levels are united through a large internal void that both creates a feeling of spaciousness and draws sunlight into the plan.
The front verandah floor has been removed in an ingenious strategy that unlocks the original plan, allowing light, air and access between levels via a covered garden stair. Camouflaged by a dense vine, the trellised verandah appears almost untouched from the outside; only a slightly projecting bridge and handrail hint at the transformed habitation within. This project shifts the definition of "verandah" from a familiar element of public–private interface to a space of intrigue. The house maintains privacy while being porous and connected to the street.
The result of the architect's moves is a highly sensorial interior that connects strongly to the garden. Every detail displays judicious effort and a well pitched restraint. While the cottage is predominantly white, a dark ceiling, concrete floor and oiled timber joinery downstairs deliberately recall the shadowy quality of the original undercroft. Disappearing sliding doors make ambiguous the edge between house and garden, and the scent of the earth is present inside. There is a sophisticated handling of natural light using both clear and translucent glass, as well as solid panels. Slatted floor surfaces and vegetation also filter the light. This is an impressively clever and memorable project.
Terrarium House is located in Highgate Hill, Queensland, and built on the land of the Yugara and Turrbal people.
For more coverage, see Sheona Thomson's review from Houses 122.

Credits
Architect

John Ellway Architect

Project Team

John Ellway
Consultants

Builder Mat Saggers
Engineer Westera Partners

Site Details

Location Brisbane, Qld, Australia

Project Details

Status Built
Category Residential
Type Alts and adds

Source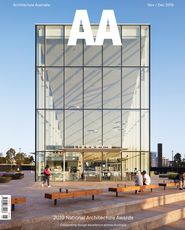 Issue
Architecture Australia, November 2019
Related topics