Jury citation
Sails in the Desert (1984) is a nationally significant project designed by Philip Cox and Partners (now Cox Architecture) to develop both a cohesive township and a sustainable visitor precinct to support the growing tourism demand at Uluru. The design nestles sensitively into the desert landscape, ensuring minimal visual impact and creating a new archetype for Australian architecture.
A range of accommodation was developed along a raised circulation spine that follows the natural contour of the site. The original plan located staff residences at the centre, between two hotels. As the demand for accommodation evolved and increased, these residences were converted to short-stay apartments and new staff dwellings were designed to sit at the end of the township.
In addition to accommodation, the project included the creation of infrastructure to support an entire community, including school buildings, retail and service stations. Housing for workers, both permanent and temporary, was also part of the brief, which, given its scale and complexity, demanded an architectural practice working at the height of its powers. All aspects of the project were developed in deep consultation with members of the local Indigenous community, some of whom came to live and work in the facility; this was an approach that was unique at the time.
Many aspects of the architecture, from colour to materials and urban form, speak of Cox's ambition to develop a tangible form of contemporary Australian architectural expression. As a whole, the township was designed to respond to the climate, with careful consideration given to orientation, shade and prevailing breezes. In a location where large shade trees struggle to survive, elegant and innovative shade structures were developed.
Sails in the Desert is both of its time and timeless. Its enduring appeal demonstrates its capacity to capture the essence of an Australian vernacular, responding sensitively to the cultural, climatic and social conditions of the place. It was, and is, an iconic settlement in the service of one of our most important cultural and spiritual sites.
Sails in the Desert is located in Yulara, Northern Territory, and is built on the land of the Yankunyjatjara people.
Credits
Architect

Philip Cox and Partners (now Cox Architecture)

Project Team

Philip Cox, John Richardson, Hank Den-Ouden, Quentin Parker, Russell Lee, Tim Jefferies, Roger Barrett, Robert Grubb, Andre Ceprinski, John Louden, Norman Keshan, Dirk Collins
Consultants

Construction manager PDC Constructions
Cost planner WT Partnership
Interior design Nexus Designs
Landscape architect Environmental Landscapes
Project manager White Industries
Services engineer D. S. Thomas Weatherall and Associates
Stormwater and civil engineer Ove Arup and Partners

Site Details

Site type Rural

Project Details

Status Built
Category Hospitality, Public / commercial
Type Hotels / accommodation

Source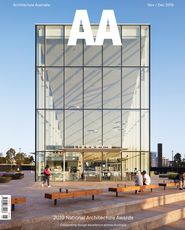 Issue
Architecture Australia, November 2019
Related topics