Jury citation
It was the determination of the jury to shift Mermaid Multihouse from its Chapter Awards category of Residential Architecture – Houses (New) to the National Award category of Residential Architecture – Multiple Housing. As its name suggests, the project is something other than a single-family residence. If anything, it is a prototype for residential design that confronts the boundaries classifying housing based on conventional social groupings; this is housing beyond the nuclear family.
Mermaid Multihouse is an experimental dwelling(s) that subverts and plays against type. "Close-habiting" rather than cohabiting, a mother and her middle-aged son share this bi-generational arrangement. The house hides behind a broad, bounded facade that offers few clues to the duplicity of the interior planning. But the entry, through a full-height breeze-block screen, provides the first confounding of expectations: two extremely elongated, double-height symmetrical doors give access to separate but equal "arcades," topped by semicircular slatted ceilings that provide filtered light to the party wall corridors.
Instead of the usual blankness belonging to a party wall or terrace-block back, the light and airiness of these corridors is a defining element of the design. There is a grandeur to these spaces that belies the compactness of the two residences. The overall footprint of Mermaid Multihouse retains the scale and density of most of the neighbouring residential plots (some have doubled their spatial density for a single family), yet produces two distinct homes. The bedrooms, the kitchen and the living spaces of both residences are modest, if not elemental, but they are not mirror images; each residence has its own individual spatial order and material exploration. Even the gardens at the end of the corridors display distinct expression.
Offering individuation within a duopoly, Mermaid Multihouse is a rewarding prototype.
Mermaid Multihouse is located in Mermaid Beach, Queensland, and built on the land of the Yugambeh people.
Mermaid Multihouse will be reviewed Sheona Thompson in Houses 132, on sale 3 February 2020.
Credits
Architect

Partners Hill with Hogg and Lamb

Project Team

Timothy Hill (design architect), Andrew D'Occhio, Michael Hogg (senior architects), Greg Lamb (senior designer)
Consultants

Builder Concord Built Australia
Certifier Steve Bartley and Associates
Structural engineer Tim Hall and Associates

Site Details

Location Gold Coast, Qld, Australia

Project Details

Status Built
Category Residential
Type Multi-residential, New houses

Source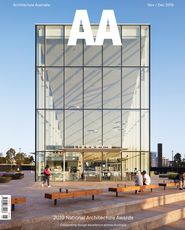 Issue
Architecture Australia, November 2019
Related topics