Jury citation
A private art storage facility in an inner-city Sydney suburb, Dangrove constitutes a masterful arrangement of sublime spatial sequences. This exquisitely robust space is industrious and functional at the ground level and transitions to a series of connected curation and evaluation spaces on the upper level. The arrival and procession through the building is an experience of immense theatre.
Designed to house an expanding and internationally significant contemporary Chinese art collection, the interior of this state-of-the-art facility is formed through the combination of muscular and controlled formalism, and a calm and ordered material palette. It deftly and expertly blends pragmatic storage, technical facilities, and exhibition and event spaces.
A hierarchy of experiences has been created by these spaces, their interrelationships and the dramatic use of filtered natural light. Every aspect of the interior has been considered as a space of beauty, regardless of its role. Details are extraordinarily precise, creating a space that is technically and functionally flexible.
This is an interior that is designed to serve its current use explicitly; however, it will easily adapt for public use should the opportunity arise in the future.
Dangrove is located in Alexandria, New South Wales, and is built on the land of the Gadigal people of the Eora nation.
— Dangrove will be reviewed by Laura Harding in a future issue of Architecture Australia.
Credits
Architect

Tzannes
Chippendale, Sydney, NSW, Australia
Project Team

Alec Tzannes, Chi Melhem (project directors), Jonathan Evans (sustainable design and design review), George Korban (project architect), Neil Haybittel, Derek Chin, Luke Novotny (architects), William Blake, Lily Tandeani, Tony Lam (designers), Kate Nason,, Sarah Reid (graduates of architecture), Elanor Hyland-Falle (lighting and furnishings)
Consultants

Acoustic consultant Acoustic Studio
BCA consultant Philip Chun
Builder Infinity
Building surveyor SDN Land Surveyors
ESD Steensen Varming
Electrical and lighting consultant Steensen Varming
Engineer TTW
Facade consultant Surface Design
Fire consultant Red Fire Engineers
Flood assessment WMA Water
Hydraulic consultant Warren Smith and Partners
Landscape consultant Oculus
Life cycle analysis The Footprint Company
Mechanical and services consultant Steensen Varming
Project manager Aver
Quantity surveyor Bylett and Associates
Town planner BBC Consulting Planners;
Traffic consultant Thompson Stanbury Associates

Aboriginal Nation

Dangrove is built on the land of the Gadigal people of the Eora nation.
Site Details

Location Alexandria, Sydney, NSW, Australia

Project Details

Status Built
Category Commercial, Interiors
Type Warehouses

Source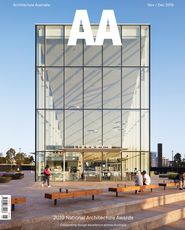 Issue
Architecture Australia, November 2019
Related topics