Jury citation
In one sense, the Parliament of Victoria Members' Annexe is a "recessive" work, buried in the landscape and deferring to its context. This reticence and restraint deliver a certain timelessness and remarkable serenity to the offices of the state's elected officials. In a space where favour and hierarchy formerly dominated, the architecture produces egalitarian and equitable offices and facilities.
The project exploits, or relies on, the landscape and the sensitive horticulture to give a dignity to the annexe. It exploits the existing garden to create a refreshing sense of relaxation and quietude that is particularly welcome in the context of a political epicentre. Although not open to the public, this is a project of the public and for the public good. One can't help but hope that its architecture affects political discourse over time.
It would be remiss not to comment on the fact that this immensely successful project was achieved by eschewing the pressure for public projects to be procured and delivered by novation and design and construct methods, or to be externally project-managed. It is clear that quality has been the primary driver here, and the close working relationship between the client and the architect is fully evident – to the long-term benefit of all.
Parliament of Victoria Members' Annexe is located in Melbourne, Victoria and is built on the land of the Wurundjeri people of the Kulin nation.
— Parliament of Victoria Members' Annexe was reviewed by Dimity Reed in Architecture Australia Mar/Apr 2019.
Credits
Architect

Peter Elliott Architecture + Urban Design
Melbourne, Vic, Australia
Project Team

Peter Elliott (design architect), Catherine Duggan, Sean van der Velden, Chris Jones, Grant Dixon, Juliet Maxsted, Geoffrey Barton, Justin Mallia (project architects), Tim Foster, Hosna Saleem, Shigeru Iijima, An Thai (graduates of architecture)
Consultants

Aboriginal heritage consultant Andrew Long and Associates
Access consultant Architecture and Access
Acoustic consultant Acoustic Consulting Australia
Arboriculture consultant Glenn Waters Arboriculture
Builder Icon
Building surveyor Philip Chun
European archaeologist Archaelogical and Heritage Management Solutions
Facade engineer AECOM
Geotechnical and environmental consultant Douglas Partners
Heritage consultant Trethowan Architecture
Landscape architect TCL
Quantity surveyor Slattery
Signage and wayfinding Melbourne Architectural Signage Studio
Structural, services and civil engineer and ESD consultant Irwinconsult

Site Details

Location Melbourne, Vic, Australia

Project Details

Status Built
Category Landscape / urban, Public / cultural

Source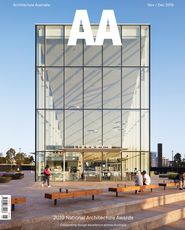 Issue
Architecture Australia, November 2019
Related topics