Jury citation
Powell Street House is a seductive, enticing gem of subtle transformations and judicious respect for existing features. The project is a critical collaboration between an architecturally literate client and an architectural practice whose palette is broad yet exacting and precise. The conjoining of two residences into one is achieved with finesse by moves that never overpower the original fabric or diminish the spatial scale of the existing structure.
A tactic of "lift and shift" has enabled delicate interventions that reject the conventional belief in light for light's sake and focus instead on deep interiors with emerging luminosity. Being inside is rather like inhabiting a late Rothko painting, where the eyes adjust to participate in a slow reveal of dark tonalities and subdued textures. This alteration is neither minimal nor monochromatic; it is deeply considered and reflects the clients' approach to fashion, architectural effects, daily life and a much-loved cat.
Powell Street House does not seek to maximize resale expectations. It is an exploration of the shifting balance between retention, deletion and addition. Its bold and somewhat quirky gestures play off restrained and period backdrops both powerfully and subtly.
Powell Street House is located in South Yarra, Victoria, and built on the land of the Boon Wurrung and Wurundjeri people of the Kulin nation.
Credits
Architect

Robert Simeoni Architects
Carlton, Melbourne, Vic, Australia
Project Team

Robert Simeoni (design architect), Nicholas Murray, Drew Hynninen (architects), John Watson (project liaison)
Consultants

Builder The Zimmermann Oz

Site Details

Location Melbourne, Vic, Australia

Project Details

Status Built
Category Residential
Type Alts and adds

Source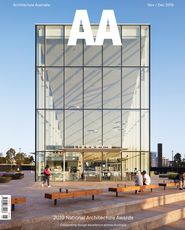 Issue
Architecture Australia, November 2019
Related topics