Jury citation
House in the Hills initially presents as an abstract intervention in the rural Victorian landscape, challenging our perception of rural domesticity. A hovering parasol, inspired by steel-framed hay sheds, performs as place-maker, defining the habitation precinct within the rolling twenty-five-hectare site. Restrained and expansive, it establishes a datum line within the landscape, emphasizing changes in the topography.
Beneath this parasol, a new landscape is established, with two pavilions and the reshaped ground plane surrounding an inner courtyard. Above, the parasol's operable louvres permit varying degrees of light and shade, depending on the time of year and day, and protect the house from pummelling south-westerly winds.
In contrast to the unashamedly rigorous metallic exterior, the house's plywood interior is warm and inviting. Inside, the vast landscape views and broad extent of the parasol enlarge the perception of the modestly scaled rooms.
House in the Hills' evocative silhouette is precise and immaculately detailed. This is an ambitious family home on a beautiful yet unrelenting site.
House in the Hills is located in Barrabool, Victoria and is built on the land of the Wathaurong people.
Credits
Architect

Sean Godsell Architects
Melbourne, Vic, Australia
Project Team

Sean Godsell (project director), Hayley Franklin (project architect)
Consultants

Builder Poulsen Builders
Building surveyor Nelson McDermott
ESD consultant Greensphere Consulting
Engineer Perrett Simpson
Landscape consultant Eckersley Garden Architecture
Quantity surveyor Plan Cost Australia

Site Details

Location Surf Coast, Vic, Australia

Project Details

Status Built
Category Residential
Type New houses

Source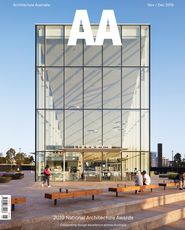 Issue
Architecture Australia, November 2019
Related topics