Jury citation
Hawthorn House is an abstraction made material. It is a provocative spatial diagram transformed into a powerful experience of refined details and a restrained yet luxurious palette of wood, curved glass and concrete.
Cubic, concrete masses, punctured by semicircular apertures, rest on delicate, residual supports, highlighting a constant interplay between heavy and light, solid and open, screening overhangs and curved floor-to-ceiling glazing. This vessel-like glazing defines two radiused, rectangular ground plans that are captured and bounded by thin-shelled concrete cubes. The glazing sets up an interiority that appears to expand outwards. The seamless continuity of the wood ceiling from inside to outside completes the soffit of the concrete shell as an extended membrane; it reinforces a sense of materials acting as singular skins, contributing to the house's diagrammatic architecture.
The ground floor is a panorama, at once open and blinkered. The controlled palette of materials expands only slightly as one moves from the ground-floor living, dining and kitchen areas to the upper-level bedrooms, where the two cubic masses differentiate domains for children and adults. Walled gardens visually release the internalized upper levels skyward.
Hawthorn House is located in Hawthorn, Victoria and is built on the land of the Wurundjeri people of the Kulin nation.
For more coverage, read Alexandra Brown's review from Houses 128.
Credits
Architect

Edition Office
Vic, Australia
Project Team

Kim Bridgland, Aaron Roberts (design architects), Jonathan Brener (project architect)
Consultants

Builder Flux
Engineer David Farrar
Landscape consultant Eckersley Garden Architecture

Site Details

Location Melbourne, Vic, Australia

Project Details

Status Built
Category Residential
Type New houses

Source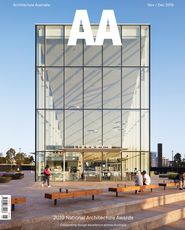 Issue
Architecture Australia, November 2019
Related topics