Jury citation
The experience of this house lingers in the mind. Situated on a bustling and unremarkable arterial road in suburban Perth, the strength of its exterior belies a quality of neighbourliness. There are no fences, and the pervious paving and garden are shared with the street.
Entry is through a deep threshold created by the mass of a recycled rammed-concrete wall. An eidetic move of enclosure and void establishes the primary parti of the plan. The house is zoned to enable compact living but readily expands to accommodate guests and family, with subtle differentiation provided by deep concrete ceiling beams that partition the main volume.
Externally, a series of deep rammed-concrete surfaces softly redirects natural light into the depth of the plan, reducing glare and focusing the interior towards the verdant courtyard, which is dominated by an enormous Colocasia.
The quality of the house stems from the deliberate and accomplished pursuit of a subtle monolithic materiality. Atmospherically, it recalls the traditional Moroccan riad and is similarly attuned to its locality, where the sun can be harsh. The resolution and economy of detail and unadorned surface is rigorous and poetic, creating a completely immersive architecture.
Cloister House is located in Floreat, Western Australia and is built on the land of the Whadjuk people of the Nyoongar nation.
For more coverage, see Patrick Kosky's review from Houses 126.
Credits
Architect

MORQ
Perth, WA, Australia
Project Team

Matteo Monteduro, Emiliano Roia, Andrea Quagliola, Mark Jecks, Elliot Lind
Consultants

Builder Subiaco Homes
Building surveyor Building Lines
Cabinetry and joinery Joondalup Cabinets
Engineer Hera Engineering
Landscape consultant Garden Deva
Landscaping Alessio's Gardens
Lighting consultant Modular Lighting and Partners
Rammed earth contractor Perth Stabilised Earth
Timber carpentry Ecoast Construction

Site Details

Location Floreat, WA, Australia

Project Details

Status Built
Category Residential
Type New houses

Source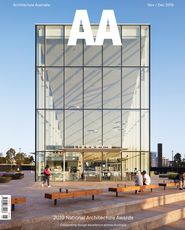 Issue
Architecture Australia, November 2019
Related topics