Jury citation
Doubleground exemplifies the opportunity for the creation of powerful spatial and temporal experiences through the amalgamation of landscape and architecture. In this project, Muir and Openwork have worked together to create memorable spatial sequences through a complex and skilful overlay of theory and practice. Rather than an object in the landscape, Doubleground becomes the landscape.
The expressive combination of curated "memories" and formal motifs that exist in the building and landscape at the National Gallery of Victoria have been reconfigured into a single meandering work that sensitively occupies the original courtyard. The project gives us an opportunity to see a familiar public space with fresh eyes and brings Roy Grounds' original intentions to the surface. It is at once an homage to Grounds' 1968 design and a creation genuinely of the moment.
Doubleground comfortably occupies the gallery courtyard and establishes a new foreground and background to the existing sculpture garden. Its edges are often implied rather than rigidly formed, as ground planes shift from floor to topography, inviting inhabitation and discovery, and opening a dialogue between memory and context. The depth, clarity and sensitivity of Doubleground is conceptually remarkable and experientially rich.
Doubleground is located in Melbourne, Victoria and is built on the land of the Wurundjeri people of the Kulin nation.
For more coverage, see Sarah Hicks' review from Landscape Architecture Australia May 2019.
Credits
Architect

Muir
Melbourne, Vic, Australia
Project Team

Amy Muir, Mark Jacques, Alessandro Castiglioni, Benjamin Kronenberg, Elizabeth Herbert, Jack Stirling, Marijke Davey
Landscape architect

Openwork
Melbourne, Vic, Australia
Consultants

Consultant Irwinconsult, DBG Projects, Programmed, Show Works, Charles Sandford, Brickworks, Gunnersen, Higgins Coatings

Site Details

Location Melbourne, Vic, Australia

Project Details

Status Built
Type Public / civic, Small projects

Source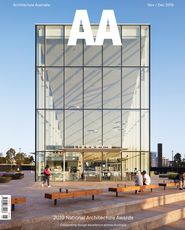 Issue
Architecture Australia, November 2019
Related topics